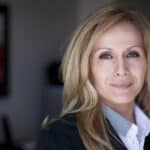 As Dr. Ary Krau noted in his last blog post, facelift was one of the top five most popular cosmetic surgical procedures performed last year. And for good reason! Modern techniques are yielding results that look more natural than ever before. Here, Dr. Krau illuminates some of the techniques that help him deliver exceptional facelift results.
What Facelift Accomplishes
Over time, the skin becomes loose and the underlying fat and muscles break down. This is what causes cheeks to look saggy, deep folds to appear between the nose and mouth, the jawline to lose definition and the neck to develop a "turkey wattle"-like appearance.
The primary purposes of facelift are to treat this loose skin and tighten the underlying structures in the lower face and neck to restore normal facial contours.
Refrain from Over-pulling the Skin
The dreaded "wind-blown" effect can occur if the surgeon over-pulls the facial skin, so that it is too tight, and excises lax skin without addressing the underlying structures. This is considered a very outdated approach.
Instead, facelift surgeons like Dr. Krau now focus on lifting and repositioning the underlying muscles in the midface and neck (known as the SMAS layer) and suturing them into place. The underlying tissues are also restored to their original position, and displaced fat is redistributed. Only then is the skin re-draped very subtly to avoid a pinched or frozen look.
Incorporate Newer Technology
Some facelift surgeons fold newer (often non-surgical) technology into the facelift procedure to enhance the results and reduce traditional side effects. For example, certain energy- or laser-based devices can firm the skin or reduce unwanted fat without incisions. Alone, the non-surgical techniques may not deliver the desired outcomes, but combined with surgical techniques, the result is magnificent.
Another example is adding fat or filler injections, or placing a cheek or chin implant during the facelift procedure to create more youthful looking contours.
Customize the Procedure to Each Patient
Another very effective way to create natural looking results is to tailor the scope and techniques of the procedure to the individual patient. Everyone has unique needs and a specific idea of what they'd like to look like after surgery. By listening to the patient, facelift surgeons like Dr. Krau can recommend the approach that is most likely to deliver those results. Sometimes, this customization may involve treating the eyelids or the brow line at the same time as facelift. Or, it could include a few fat or filler injections to improve the contours of the cheekbones or jawbone.
Schedule a Facelift Consultation
If you would like to discuss facelift and other anti-aging options with Dr. Krau, please call (305) 861-6881 or email our practice today to request a consultation.