Mommy Makeover in Miami
Mothers who long for their pre-baby bodies trust Miami plastic surgeon Dr. Ary Krau to give them the results they desire. Through a combination of procedures collectively referred to as a "mommy makeover," Dr. Krau can address and correct the physical changes caused by pregnancy and breastfeeding.
What is a Mommy Makeover?
Mommy makeover addresses common changes in the body — chiefly, the breasts and abdominal area — that result from pregnancy and breastfeeding.
For example, it's common for a woman's abdominal skin to stretch to accommodate the growing baby, but not "snap back" over the abdomen after the bay has been delivered. Excess fat deposits may also linger on the abdomen or other parts of the body after pregnancy.
Women's breasts may change in a few different ways: they may droop or sag on the chest wall, with the nipples pointing downward; lose shape and volume and look "deflated"; or become larger as a result of pregnancy, to an undesirable size.
What Mommy Makeover Includes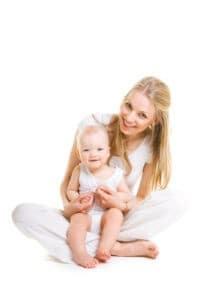 No two mommy makeovers are alike. In fact, mommy makeover surgery is specifically tailored to your unique cosmetic needs and desired outcome. Therefore, your surgery could include a breast lift with implants and a tummy tuck, while another woman's mommy makeover could include breast augmentation and liposuction on the abdomen. Visit our mommy makeover before and after photos.
Depending on your needs and goals, your mommy makeover could include:
Breast Lift
It's common for mommy makeover treatment plans to include breast lift, which elevates saggy or droopy breasts to a higher position on the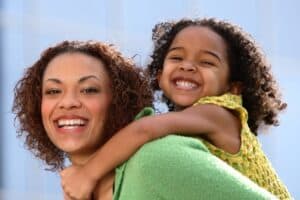 chest wall. Breast lift can be combined with the placement of implants to add volume and fullness. Other women may not need a breast lift and simply benefit from the placement of implants alone.
Tummy Tuck
Women are usually left with loose abdominal skin and fat after pregnancy (especially multiple pregnancies). The abdominal muscles also tend to weaken or separate during pregnancy. Tummy tuck involves removing this surplus of fat and skin, repairing the musculature and stitching it into place and re-draping the skin more tightly over the abdomen.
Liposuction
Another side effect of pregnancy is the accumulation of excess fat around the body (e.g. the buttocks, waist, thighs, knees, upper arms or back). Liposuction removes the excess fat and subtly enhances the curves and contours of the body for a slimmer shape.
Recovering from Mommy Makeover
After your mommy makeover, you will need to take about two weeks off from work and your normal routine. You will need to recruit a family member or friend to help with childcare and household chores, as you will not be able to lift anything heavy, bend over or lift your arms above your shoulders. Dr. Krau encourages you to take short walks to promote good circulation, but other than that, you need to get as much rest as possible.
Dr. Krau will follow up with you after your surgery to check your healing progress, answer any questions and advise you as to when it is safe to return to work, exercise and other everyday activities.
Mommy Makeover Risks
There are always risks associated with surgery, but choosing a board certified, qualified surgeon minimizes your risk of complications. Dr. Krau will go over the surgical risks with you during your consultation and make sure you understand them. He will also explain the steps that he takes to mitigate the risks.

Mommy Makeover FAQs
Am I an appropriate candidate for mommy makeover surgery?
If you are in good overall health, are not currently pregnant or breastfeeding and are unhappy with the cosmetic effects of pregnancy and breastfeeding, you are most likely an appropriate candidate for mommy makeover surgery. However, the best way to determine your candidacy with certainty is to visit Dr. Krau for a consultation.
Why is it beneficial to have multiple cosmetic procedures completed at one time?
Undergoing multiple cosmetic surgical procedures at one time is beneficial because you only have to pay for certain fees once, including the operating room fee and the anesthesiologist's fee. In addition, you only have to go through one recovery period once — and you will notice the overall cosmetic effect of the mommy makeover after surgery.
Should I lose weight before having mommy makeover surgery?
You should be at or just slightly above your ideal body-weight before having mommy makeover surgery. Also, you should be at a weight that you feel you can maintain after the procedure, as gaining a substantial amount of weight following mommy makeover surgery can counteract the aesthetic outcome of the procedure. This is also why it is a good idea to wait until you are finished having kids to undergo mommy makeover treatment.
Will I have scars from the procedure?
Yes, you will have some scars following mommy makeover surgery. Most significant is the scar from tummy tuck surgery if you are including that procedure in your overall mommy makeover. Although the tummy tuck scar is significant, Dr. Krau strategically positions it in a location that is easily concealed by the underwear or bikini line. Over time and with proper care, scars should dramatically fade. Patients generally agree that the scars are a good trade-off for their new and improved figure.
What are my financing options?
There are several available financing options, including third-party financing from CareCredit or MyMedicalLoan.com, for those who qualify. In addition, Dr. Krau accepts most major credit cards, including MasterCard, VISA and American Express.
Learn More about Mommy Makeover
To learn more about mommy makeover, please contact Miami plastic surgeon Dr. Ary Krau by calling (305) 861-6881 or sending an email.