Breast Reduction in Miami
Searching for the best breast reduction surgeon in Miami? Dr. Ary Krau is considered one of the best plastic surgeons in the area by patients and peers alike. Many patients seek breast reduction to help reduce the size of their breasts. Read the following questions. If you find yourself answering "Yes" to most of them, then breast reduction surgery may be right for you.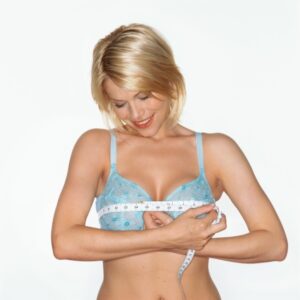 Are your breasts too large for your figure?
Do you suffer from back pain?
Do your bra straps dig into your shoulders because of the weight of your breasts?
Is it difficult to find clothing that fits your bustline?
Does your skin become irritated, due to your large breast size?
If you are uncomfortable or embarrassed by the size of your breasts, Dr. Ary Krau can help. He is a talented breast reduction surgeon in Miami who has helped hundreds of women find relief from heavy, oversized breasts. Dr. Krau will bring your breasts into better proportion with the rest of your body frame so you are physically and psychologically more comfortable with your appearance.
Am I a Candidate for Breast Reduction?
Dr. Krau will establish candidacy during the consultative phase. If you are interested in breast reduction, we encourage you to schedule a consultation with Dr. Krau to determine whether it's a good option for your needs.
Generally, breast reduction candidates are women who:
Are physically and/or emotionally uncomfortable with oversized, heavy breasts
Are otherwise in good physical and psychological health
Do not have any uncontrolled medical issue that could increase the risk of complications
Understand the risks of surgery
Desire improvement, not perfection
Dr. Krau also performs breast reduction for men, also known as gynecomastia treatment.
During your consultation, Dr. Krau will examine your breasts and ask you questions about your health and lifestyle. If he determines that you are a good candidate for surgery, he will develop a treatment plan that addresses your concerns and delivers your desired results.
What Happens During Surgery
Breast reduction is performed on an outpatient basis at a fully accredited, state-of-the-art surgical center. Anesthesia will be administered to prevent you from feeling anything during your procedure. Surgery typically takes about two to three hours to complete.
Dr. Krau will make the surgical incisions between the nipple and the fold underneath the breast. He will carefully remove excess tissue and reshape the breast mound into a more proportional size. Dr. Krau will also relocate the areola/nipple higher on the breast mound. When he's finished, he will close the incisions with sutures and place a supportive bra around the breasts.
Breast Reduction Recovery
You will receive detailed postoperative instructions during your initial surgical consultation. Dr. Krau will be in touch with you during your recovery, and our team is always available to answer any questions.
You will need to wear a supportive bra 24 hours a day for about a month, depending on how your body heals. Avoid exercise and other strenuous activities (including lifting children) for a month, until Dr. Krau clears you.
As your breasts heal, you will note some scarring around the areola and within the fold of the breast. Because of the nature of breast reduction, it's impossible to avoid scarring altogether. However, your scars will fade over time. Also, Dr. Krau's patients agree that the freedom from oversized breasts is well worth the minimal scarring that results.
Breast Reduction Risks
When breast reduction is performed by an experienced and qualified surgeon, serious complications are rare and infrequent. However, it's important for prospective breast reduction patients to understand the potential complications. These include:
Bleeding
Infection
Hematoma or seroma
Unfavorable scarring
Damage to underlying structures
Loss of nipple sensation
Frequently Asked Questions about Breast Reduction
Dr. Ary Krau answers the most common breast reduction questions below.
Is breast reduction surgery painful?
The surgery itself is not painful because anesthesia is used. The post-operative recovery phase may be slightly uncomfortable, but oral medication is prescribed to manage the pain.
Do I need a breast lift, too?
It depends on your skin elasticity and the amount of breast tissue you need removed. Younger women with good elasticity and a moderate amount of excess breast tissue may find their skin contracts to fit around a smaller breast after surgery. Older women with more excess breast tissue may need to incorporate breast lift techniques to achieve the beautiful breast shape and position they desire.
What are the side effects of breast reduction?
Breast reduction surgery can cause swelling, bruising and tenderness during the post-operative phase. There is also the slight risk of more serious complications, including bleeding, infection, breast contour irregularities, skin discoloration, asymmetry, unfavorable scarring and changes in nipple or breast sensation.
How soon can I see results?
The breasts immediately look smaller after surgery. As the bandages come off and swelling subsides, results continue to improve. Results can take up to a few months to stabilize.
When can I go back to work after breast reduction?
Every patient heals at her own pace. Most return to desk jobs and light activities within a week or two, whereas some need a few additional days to resume their normal routine. It is best not to rush the recovery process, which could cause complications.
Will I have scarring from surgery?
The surgical incisions do produce some scarring, although patients strongly feel that the results are worth it. Dr. Krau does everything he can to keep scarring as minimal as possible.
Can I breastfeed after surgery?
Breast reduction may affect the ability to breastfeed in the future. If you are thinking of nursing future babies, talk to Dr. Krau so he can incorporate this into your surgical plan of treatment.
How much does breast reduction cost?
The cost of breast reduction depends on factors such as the specific surgical techniques used and whether breast lift is combined into the operation. Dr. Krau can provide a price quote during an informational consultation.
Will insurance cover my surgery?
Some insurance plans do offer coverage for breast reduction costs if the procedure is deemed "medically necessary" due to chronic neck pain, back pain, rashes underneath the breasts or other health-related problems. Dr. Krau's team can help you verify insurance coverage and file the necessary claims.
How long will my results last?
Breast reduction results are permanent although the surgery does not stop the aging process or effects of gravity. To prolong the results of surgery, Dr. Krau suggests maintaining the same weight and following healthy lifestyle habits.
LEARN MORE ABOUT BREAST REDUCTION
To learn more about breast reduction surgery, please contact the office of Dr. Krau today at (305) 861-6881 or send us an email today.