Meet Dr. Krau
Ary Krau, MD, FACS
Dr. Ary Krau is well-known, not only in Miami, but nationwide, for his natural results, and has become a familiar face to many through his numerous media appearances. Dr. Krau was one of five Miami plastic surgeons featured on the hit Bravo TV reality series "Miami Slice". Off-camera, Dr. Krau is the director, producer and star of his thriving plastic surgery practice located on Miami's beautiful Bay Harbor Islands. "I run the show when it comes to my practice," says Dr. Krau, who takes a hands-on approach and is involved with his patients throughout their entire cosmetic procedure process, from the initial consultation through all post-operative visits.
A former reconstructive surgery instructor at the University of Miami, Dr. Krau favors intricate procedures such as rhinoplasty. "Most plastic surgeons consider rhinoplasty to be the most difficult type of surgery," says Dr. Krau. "It's an operation where you're dealing with fractions of millimeters, but I love doing them. Every nose I do is uniquely created for each face." Dr. Krau also pioneered a new method for breast lift, which is highlighted in New Beauty magazine.
"You have to be meticulous and have a feel for what you're doing," says Dr. Krau. His attention to detail, personal approach, and closely knit office staff has South Floridians and others flocking to his practice. "Our practice is growing dramatically because our satisfied patients recommend us to their family and friends."
Dr. Krau's Miami Plastic Surgery Center

In practice since 1995, Dr. Krau is committed to delivering the highest quality results in an environment where safety comes first. Dr. Krau's facility is fully accredited by the State of Florida. An overnight suite is available on the premises for those wishing the extra time and attention. The ever-dedicated Dr. Krau is usually on-site no matter the hour. "I'm not a clock watcher," he says. "I'll put in whatever time it takes to get the best outcome for my patients."
Popular Miami cosmetic plastic surgery procedures such as breast augmentation and lifts; body contouring and abdominoplasty; rhinoplasty; facial rejuvenation such as facelifts, midface lifts, necklifts, endoscopic browlifts, eyelifts, as well as skin care are all performed in Dr. Krau's on-site fully-accredited, state-of-the-art surgical center.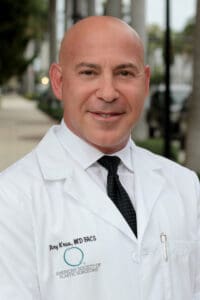 Education & Certifications
Board Certification
American Board of Plastic Surgery
Medical Degree
New York University School of Medicine
General Surgery Residency
University of Miami, Jackson Memorial Hospital and State of New York, Brooklyn
Plastic Surgery Residency
King's County Hospital/State of New York
Plastic Surgery Fellowship
Larry B. Robbins/Miami Heart Institute
Professional Affiliations
Member of American Society of Plastic Surgeons
Member of American Society of Aesthetic Plastic Surgeons
Fellow American college of Surgeons
Member of Miami Society of Plastic Surgeons
Why do Patients Choose Dr. Ary Krau?
Experience: Practicing in South Florida since 1995 (over 20 years of experience).
Training: Graduate of New York University's medical school and fellowship-trained.
Lecturer: Dr. Krau educates other plastic surgeons on tricky breast surgery cases at numerous meetings, including at the most prestigious annual meeting of the American Society for Aesthetic Plastic Surgery (ASAPS).
Industry Leader: One of 35 cosmetic surgeons nationwide invited to join the Mentor LEAD Program Advisory Board, which helps shape the future of cosmetic surgery techniques and products in breast augmentation. (Five-year member.)
Patient Satisfaction: Look around and read testimonials and reviews. It's hard to find anyone else with a better reputation.
Hands-on Approach: Involved with his patients throughout their entire experience.
Natural Talent: Visit our before-and-after photo gallery showing his consistently gorgeous results.
Boutique-Style Practice: Private, intimate, unrushed, personable approach to patient care.
Warm and Friendly Team