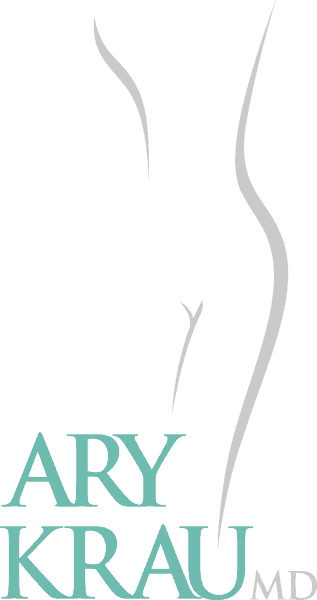 Ready to get a facelift in Miami? Facelift surgery has long been the gold standard of facial rejuvenation surgery. An expertly performed facelift will make you look like a well-rested and more youthful version of yourself. Put your trust in board certified plastic surgeon Ary Krau to help you achieve the revitalized look you desire. Dr. Krau has two decades of experience with facial plastic surgery and is the surgeon of choice for Miami's finest.
What A Facelift Can Address
The normal effects of aging slow the production of two proteins (collagen and elastin) that are essential to maintaining a youthful appearance. Without these proteins, the skin loses elasticity and can start to sag. Also, aging causes loss of muscle tone as well as fat volume loss. Fat also displaces to unwanted areas of the face. All of these elements can contribute to an old and weary facial appearance.
Facelift addresses common signs of aging, including:
Loss of elasticity and muscle tone in the face or neck
Jowls
Deep creases along the base of the nose and mouth
Wrinkles on the face and neck
A slackened jawline
An overall tired appearance
Am I A Facelift Candidate?
Generally, facelift candidates are in good physical and psychological health and do not smoke. They should be well informed and understand the possible (albeit rare) complications of the procedure and desire improvement, not perfection.
Facelift candidacy is addressed on a one-on-one basis with Dr. Krau. He will examine your face, noting the elasticity of your skin and your facial features, and inquire about your ideal cosmetic outcome. Together, you will set realistic goals for surgery and review the possible risks.
How A Facelift Works
Facelift is performed on an outpatient basis at Dr. Krau's accredited surgical facility. Anesthesia will be administered for your complete comfort.
Dr. Krau has a unique approach to facelift surgery that has created beautiful and natural-looking results. He believes that old-fashioned facelift techniques that simply tighten the skin create a "wind-tunnel" look that is unappealing and leaves scarring and other telltale signs.
Dr. Krau uses newer and more advanced techniques that take into consideration the three dimensional quality of the face. His primary priorities during facelift surgery are to elevate the skin and re-suspend the deep tissues of the face in a higher position. He will also elevate the cheek fat and place it higher on the cheekbone, re-suspend the jowls (which fills in the void in the mid-face) and re-drape the skin with the slightest degree of tension for an overall more youthful looking face. With this approach, Dr. Krau is able to maintain the beauty of the face.
Types Of Facelifts
There are several variations of facelift surgery, including standard facelift and mini facelifts. The techniques vary, according to the degree of correction necessary. The variation that Dr. Krau takes with your case will be tailored to your specific needs.
Facial Procedure Combinations
Facelift results can be further enhanced with a complementary procedure such as eyelid lift, brow lift, chemical peel, chin or cheekbone augmentation, nose reshaping surgery or lip augmentation. Dr. Krau will provide more details about these procedures during the consultative phase.

Recovering From A Facelift
Dr. Krau will give you detailed postsurgical instructions to follow. He takes an active role in your aftercare and will meet with you several times to monitor your healing progress.
Initially, your face and neck will be wrapped in soft dressings; these dressings are usually removed the day after surgery. Swelling and bruising are most noticeable in the days immediately following surgery, and will subside with time. Get plenty of rest during the first part of your recovery and avoid any strenuous activity. Pain medication will be prescribed in case you experience any discomfort.
Dr. Krau will let you know when you can resume work and exercise. Usually facelift patients are able to return to work and other social activities within 10 to 20 days by covering any residual bruising or swelling with makeup.
Facelift Risks
All surgical procedures do have inherent risks, including bleeding, infection and changes in skin sensation. However, choosing a board certified and experienced surgeon can mitigate many of these risks and enhance the safety and precision of the procedure. Dr. Krau will discuss facelift risks with you in more detail during your consultation.
Frequently Asked Questions About Facelifts
The most frequently asked facelift questions Dr. Ary Krau receives include the following:
WHEN WILL MY RESULTS FROM FACELIFT SURGERY BE VISIBLE?
Although some of the cosmetic results of facelift surgery will be visible after the initial phase of recovery (i.e., about two weeks after surgery), the final results may take about two to three months to become fully apparent, as this is how long it takes for any residual swelling to resolve.
WHAT ARE MY FINANCING OPTIONS?
Dr. Krau's patients have several financing options, including paying by major credit card (i.e., VISA, MasterCard or American Express). Third-party financing from companies such as CareCredit and MyMedicalLoan.com is also available for patients who qualify.
HOW DOES FACELIFT WORK?
Facelift does not stop the aging process but, when performed correctly, it can turn back the clock by 10 years or more. The facial tissues, fat and skin are subtly modified to create a more youthful looking contour. Everyone experiences different facial changes as they age, so the procedure is tailored to each individual's unique needs.
Generally, facelift achieves the following:
Elevates sagging tissues and skin in the mid-face
Fills in deep creases below the eyelids
Corrects fallen or displaced fat
Improves poor skin tone in the lower face that forms jowls
Removes excess fat deposits under the chin and on the neck
WILL FACELIFT IMPROVE THE LOOK OF MY EYELIDS?
No, facelift focuses on the middle and lower portions of the face. To improve the appearance of prematurely aged eyelids, eyelid lift is the more appropriate option. Eyelid lift can address the upper eyelids, lower eyelids or both simultaneously.
HOW MUCH DOES FACELIFT COST?
The cost of facelift differs by the specific plan of treatment. Factors that can influence facelift cost include the techniques used, the goal of treatment and whether facelift is combined with another facial rejuvenation procedure. For more specific information about pricing, please contact Dr. Krau's office today.
HOW PAINFUL IS A FACELIFT?
Anesthesia is used during surgery so the patient does not feel anything. Afterward, a degree of discomfort or pain is normal, but can be well controlled with oral medication as prescribed by Dr. Krau.
WHAT ARE THE SIDE EFFECTS OF FACELIFT?
Facelift may cause post-operative swelling, bruising, numbness or a sensation of tightness. Other problems that may arise in rare cases are bleeding under the skin, infection, nerve damage, prolonged numbness, scarring and reactions to the anesthesia.
WHEN CAN I RETURN TO WORK AFTER FACELIFT SURGERY?
Facelift recovery varies by patient. Typically, facelift patients return to work about two weeks after surgery. At this point, most of the bruising has resolved and the sutures have been removed. Minor swelling and bruising may last one or two weeks longer but can be concealed with cosmetics.
HOW LONG DO FACELIFT RESULTS LAST?
The longevity of facelift results has a lot to do with the quality of the patient's skin, as well as lifestyle factors. Someone with good skin elasticity, that does not smoke, that wears sunscreen and maintains a healthy weight will enjoy long-lasting results. Smoking, spending time in the sun without sunscreen and fluctuating in weight can compromise facelift results significantly.
IS FACELIFT WORTH IT?
Most patients think it is. Facelift can minimize noticeable signs of aging for a more youthful appearance. With a younger looking face, patients experience an enormous increase in self-confidence. For many, their quality of life improves, too.
Learn More About Facelift
For more information about facelift surgery, please contact the practice of Dr. Ary Krau. Call us today at (305) 861-6881 or send us an email.