Brazilian Butt Lift (BBL) in Miami
Searching for a Brazilian Butt Lift in Miami? Would you like a shapelier, more youthful looking backside? Did you know that you can achieve this goal naturally, by having your fat transferred? The increasingly popular BBL helps women naturally enhance their behind with fat grafting.
Brazilian Butt Lift (BBL) Overview
Brazilian butt lift, offered at the practice of Miami plastic surgeon Ary Krau, can give you the sexy, voluptuous butt that you desire. The best part is: Dr. Krau will use surplus fat from another area of your body like your abdomen or thighs to add natural volume and shape. Your butt will look firmer and rounder, and the donor area will look sleeker and slimmer! It's a win-win.
Dr. Krau relies on nearly two decades of aesthetic plastic surgery experience, plus his finely honed artistic sense, to create results that are
beautiful and natural-looking. He is the go-to choice for Brazilian butt lift in Miami.
Am I a Candidate for Brazilian Butt Lift?
Dr. Krau consults with potential Brazilian butt lift candidates individually to explore whether the procedure is a good option for their needs. The ideal candidate is an individual who:
Is physically and psychologically healthy
Has surplus fat in another area of the body (e.g., waist, thighs, hips)
Does not smoke
Does not have a medical condition which could increase the risk of complications or impair recovery
Understands the possible (rare) risks
Has reasonable goals
Desires improvement, not perfection
How a Brazilian Butt Lift Works
Brazilian butt lift is an outpatient procedure performed at Dr. Krau's accredited surgical facility. Anesthesia and sedation medications will be used so you remain completely comfortable throughout surgery.
Brazilian butt lift is a two-part operation. First, Dr. Krau will use liposuction techniques to remove surplus fat from the donor area of the body. He will purify the fat and prepare it for re-injection. Then, he will make a series of injections in the buttocks, using the fat to enhance its shape. Dr. Krau will focus on the upper quadrant of the buttocks to create a "lifted" appearance. His meticulous approach guarantees a smooth contour in both the donor area and the newly sculpted buttocks.
After Dr. Krau has finished the procedure, he will place a surgical compression garment to help the tissues heal.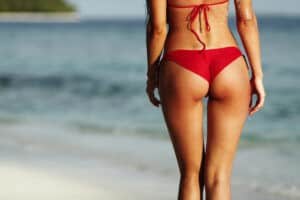 Recovering from Brazilian Butt Lift (BBL)
Dr. Krau will provide detailed instructions for Brazilian butt lift recovery. He is thoroughly involved in all aspects of surgical aftercare and is always available to answer any questions.
You will have some bruising and swelling in the buttocks and donor area after surgery; these side effects are temporary and will gradually subside. You should not sit directly on your buttocks during your initial recovery; instead, you should sit on a pillow. Keep the compression garment in place until Dr. Krau instructs you to remove it.
Dr. Krau will meet with you for several follow-up appointments to check your healing progress and advise when you can return to work, exercise and other daily activities.
Brazilian Butt Lift Risks
All surgical procedures carry a degree of risk; working with a board certified plastic surgeon minimizes this risk significantly. Dr. Krau is proud of his low rate of complications. However, he does want you to understand that complications do occur in very rare cases. He will go over the specific risks during your pre-operative consultation.
Schedule a BBL Consultation
If you're interested in Brazilian butt lift surgery, please contact Dr. Ary Krau by calling (305) 861-6881 or via email.