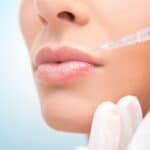 It is a common practice for doctors to use cosmetic injectable products, such as neurotoxins or dermal fillers, "off-label." You may have even had a doctor recommend using one of these products off-label to treat your specific anti-aging need or another type of medical condition.
But what does off-label mean, and is it legitimate? Dr. Ary Krau explains more here.
"Off-Label" Uses
Using an injectable product "off-label" means using a drug that is approved for a specific use by the U.S. Food and Drug Administration in another, non-approved way.
The FDA's goal is to protect and reassure consumers that the drugs and medical devices their doctors use are safe and effective. Companies spend years trying to receive approval of their products from the FDA. They must prove that their product is safe and effective for its intended use and present clinical data to back up these claims. The seal of approval confirms that the benefits of using a product outweigh the potential risks.
Once the FDA approves a product for a specific use, doctors are able to use it for off-label uses as they see fit, based on their experience and knowledge of the product.
Sometimes doctors recommend using approved drugs for non-approved uses to treat a specific condition. Perhaps there may not be an approved drug to treat the specific condition; or, perhaps the doctor has tried all of the approved drugs but they have not produced the desired outcomes.
A great example is Botox Cosmetic, which is currently approved by the FDA to treat forehead lines, crow's feet lines and glabellar lines (short vertical lines found between the eyebrows). But many doctors recommend using Botox to treat other noticeable signs of aging, such as bands on the neck or downturned corners of the mouth.
Allergan, the manufacturer of Botox, can't formally advertise these off-label uses, and doctors in private practice may be hesitant to publically promote off-label uses in their marketing materials. However, it is common practice for doctors to suggest those uses during consultation, after they have evaluated you and discussed your specific needs. Also, it's perfectly appropriate for you to inquire about a doctor's experience in using a product off-label, and whether they would recommend it for your goals.
Contact Dr. Ary Krau
If you have a question about the approved or off-label use of a specific injectable, feel free to set up a consultation trusted Miami plastic surgeon Ary Krau.