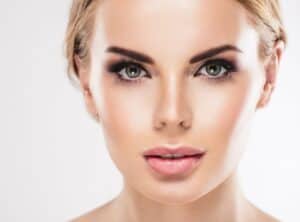 Full and plump lips are a marker of health and beauty. Whether your lips are naturally thin or have thinned with age, there are options available for fuller and shapelier lips. Top Miami plastic surgeon Dr. Ary Krau has helped many patients achieve the luscious pout they desire. In this blog post, he discusses the best treatment options for lip augmentation.
Fat Transfer
Fat transfer is an increasingly popular procedure that involves removing unwanted fat from one body area and re-injecting it into another. Most lip augmentation procedures via fat transfer use a small amount of fat taken from the abdomen, while others may use unwanted fat from the back, flanks or other areas. Dr. Krau carefully injects small amounts of fat in pre-determined areas on the lips to achieve the desired size and shape.
It is important to note that one drawback of fat transfer is that results are not as predictable as with other lip augmentation techniques, since a portion of the injected fat cells end up being absorbed by the body. Dr. Krau can discuss the pros and cons of fat transfer for lip augmentation with you during your initial consultation.
Dermal Fillers
Dermal fillers like Juvederm are used to treat various signs of aging including wrinkles, lines and lost volume. Because of this, dermal fillers are the preferred choice for many patients who desire younger, smoother and fuller lips. Dermal fillers are also popular because they are minimally invasive. Dr. Krau can inject dermal fillers in a quick and easy in-office procedure that typically takes less than 30 minutes to complete. Like fat transfer, dermal fillers are carefully injected into pre-determined areas on the lips to create the desired results.
The effects of dermal fillers are temporary. Depending on the specific product, results can last a few months to a couple of years. Repeat sessions are necessary to maintain results.
Which Lip Augmentation Option Is Right for You?
The best treatment option for you depends on your specific needs and goals. Rest assured that Dr. Krau will evaluate your unique specifications as well as discuss the advantages and disadvantages of both dermal fillers and fat transfer to help you choose the right procedure.
To learn more about your lip augmentation results, please schedule a personal consultation with Dr. Krau. Contact our Miami office by calling (305) 861-6881 or emailing us today.