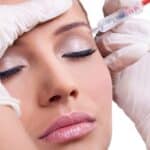 Are you contemplating Botox or injectables, but wondering what it feels like to be on the receiving end of treatment? Don't let thoughts of pain stop you from pursuing the anti-aging results you desire. Although pain is a very personalized issue, as long as you select your injector carefully, you should not expect significant pain or discomfort.
Dr. Ary Krau sets your mind at ease in this post by explaining more about avoiding pain during injectable treatment.
Botox and Other Neurotoxins
Prior to starting treatment, the injector should numb the targeted area with an ice pack or topical cream. Then, they inject small amounts of Botox or neurotoxin into the targeted area.
The injections are very quick and the needles are small; the injections may feel like a tiny prick or sting, but nothing substantially uncomfortable. The injector can apply pressure to each injection site after the injections to help prevent discomfort. The prick or stinging sensation goes away almost immediately.
After Botox, there might be mild bruising and the treated muscles might feel slightly stiff. This should subside within about a week.
Juvederm and Other Dermal Fillers
Similar to Botox and other neurotoxin treatments, the targeted area of the face (such as the lips or cheeks) might be numbed with a topical cream or ice pack prior to dermal filler treatment. Certain dermal fillers like Juvederm and Restylane are actually formulated with lidocaine for a numbing effect, so applying an ice pack prior to the injections may be sufficient.
Once the injections are administered, there might be slight swelling that lasts about a week. There should not be significant pain or discomfort.
Kybella
Kybella is a unique injectable containing deoxycholic acid, a chemical that dissolves unwanted fat in the chin. Prior to administering Kybella, injectors usually inject lidocaine into the area under the chin to numb it.
After the injections and once the lidocaine has worn off, the treated area might be slightly achy with mild bruising and swelling. These side effects typically dissipate within two weeks.
Enjoy Peace of Mind about Cosmetic Injectables
Dr. Krau wants to emphasize that injection techniques and patient comfort can vary, based on the injector. It is wise to select your injector carefully based on their years of experience and documented results. The right injector will take several measures to make treatment more comfortable.
To speak with Dr. Krau and his team about cosmetic injectables, please call our office today.