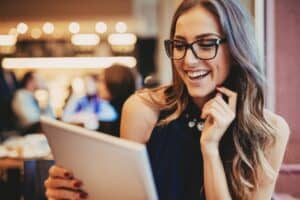 If you are like most selfie takers, you take several photos of yourself before finally deciding on one to upload to Facebook or Instagram. In this age of social media, there is no denying that how we and others view us is important to us — perhaps more than ever. In fact, in a recent survey conducted by Consumer Guide to Plastic Surgery (a patient portal owned by Ceatus Media Group) almost 73 percent of all respondents said they feel "selfie" conscious when looking at their pictures of themselves on social media. What's more, more than half of those respondents say they would consider plastic surgery to improve their appearance in selfies.
If you ever feel "selfie" conscious, Miami plastic surgeon Dr. Ary Krau encourages you to read this post and find out whether plastic surgery can help.
What the Survey Found
Consumer Guide to Plastic Surgery asked its users questions about their social media usage and how it influences certain thought processes and behaviors. The majority of survey participants were people 41 years of age or older who mostly reported feeling self-conscious about their weight, wrinkles and skin texture and tone. In addition to nearly three out of four respondents reporting that they dislike how they look on social media, more than 67 percent of them admitted to using photo-editing filters to smooth out wrinkles, brighten skin tone or improve other cosmetic flaws before sharing their photos publicly on social media.
The findings from the survey suggest that dissatisfaction with one's selfies and using photo-editing tools are influencing more people to consider more permanent enhancement with plastic surgery. While 86 percent of respondents said they never had plastic surgery done, approximately 60 percent of them said they are more likely to consider it as a result of how they look in selfies.
Can Plastic Surgery Help?
So is feeling self-conscious about a Facebook or Instagram selfie reason enough to consider plastic surgery? Most reputable plastic surgeons, including Dr. Krau, do not think so. However, if you have spent years feeling self-conscious about a certain feature, it may be worth speaking to a qualified board-certified plastic surgeon about your cosmetic options. Perhaps your selfies call attention to a crooked or oversized nose that you have been embarrassed about for the majority of your life. Or, your selfies fuel your present dissatisfaction with your post-baby body. In cases like these, Dr. Krau encourages you to discuss your options for plastic surgery with a reputable surgeon.
Depending on your aesthetic concerns and goals, your plastic surgeon may recommend a non-surgical cosmetic treatment. Non-surgical treatments such as microdermabrasion and laser skin resurfacing can address an array of skin concerns (e.g., wrinkles, acne scars, dull and dry skin, hyperpigmentation) and boost your selfie game without the risks and downtime associated with surgical procedures. Other treatments like Botox and dermal fillers offer a temporary solution to wrinkles, fine lines and other signs of aging. Not only do these treatments produce noticeable results, they can also give you a "preview" of what your results would look like with facelift, eyelid surgery or other surgical procedures that produce more permanent results.
Dr. Krau would be more than happy to meet with you and discuss your options for cosmetic enhancement. To schedule a personal consultation, please call (305) 861-6881 today.