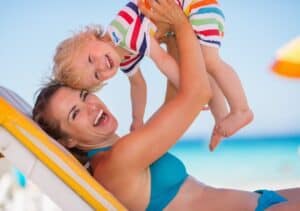 Are you thinking about having mommy makeover, but feel reluctant to spend time, energy and money on yourself? Many mothers feel similarly. If you are on the fence, it may help you to learn about the reasons why other patients love their mommy makeover results. You will discover that the psychological and emotional benefits of treatment can have a positive effect on you and those whom you love most in the world.
Below are some of the remarks Dr. Ary Krau's former mommy makeover patients have made about their experiences.
"I feel like myself again."
Pregnancy, childbirth and nursing are challenging. If you've had children, you know exactly how these life events impact a woman's body. Your breast shape changes and your abdomen develops extra skin folds that weren't there before. These changes do not magically improve or disappear over time.
Your focus and purpose also change after becoming a mother. Suddenly, you are devoting nearly all of your energy to the care and wellbeing of your children (and understandably so!). But you may have moments when you wish you could do something just for you.
Mommy makeover offers the opportunity to feel like yourself again — in body and spirit. You can enjoy an improved breast shape, a flatter stomach and better self-image. Your family will still be your foremost priority, but you also get to enjoy the confidence that comes with looking good.
"My family loves seeing me so happy."
No rule says you have to be fit and attractive to be a great parent. But looking and feeling good about your body after having a baby may make you a happier and more positive person, and when you are happy, it sets the tone for your whole family. Your happiness and positivity will infuse your household with an optimistic attitude that is contagious. You may even reconnect with your significant other in new ways after mommy makeover, which benefits the foundation of your family.
"My confidence sets a good example for my children."
Many of Dr. Krau's patients have told him that their newfound confidence after mommy makeover helps them be better role models to their children. Kids can learn a lot from a secure, proud mother! If your current body makes you want to hide or cover up in baggy clothing, mommy makeover will help you to be comfortable in your own skin.
See for yourself why countless mothers have trusted their post-baby plastic surgery to Dr. Krau. A caring and compassionate surgeon, Dr. Krau is dedicated to helping moms feel beautiful again. Request a consultation with him today to learn more about mommy makeover.