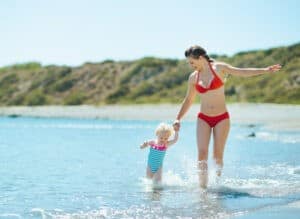 Mothers are often plagued by excess abdominal skin and pockets of fat after pregnancy. You may experience deflated breasts and loose abdominal muscles, among many other changes to your body after childbirth. Many women choose to have a mommy makeover, a combination of plastic surgery procedures customized to help them realize their pre-baby figure. However, timing is a crucial part of the mommy makeover, and you want to make sure you have your plastic surgeries at a time in life that makes the most sense for your cosmetic goals and your family.
Our board-certified plastic surgeon has helped countless women achieve natural-looking results with a mommy makeover. He's known for his meticulous attention to detail and personal approach, and you may recognize Dr. Ary Krau from his appearances on the hit Bravo TV reality show, "Miami Slice."
A mommy makeover may involve breast surgery, such as a breast lift or breast augmentation, abdominoplasty (tummy tuck), liposuction or other procedures. These plastic surgeries can help you feel confident and comfortable in your skin again and restore a youthful radiance to your body shape.
How Long Ago Did You Give Birth?
Your body needs ample time to heal. After all, it took more than nine months to grow your little one. Your breasts, uterus and abdomen need time to return to normal. You want to be in good overall health and at or near your goal weight before your mommy makeover for the best results. It's typically recommended that women wait six months to one year after giving birth to have plastic surgery. If you are breastfeeding, you will need to wait until your nursing journey has ended and give your breasts time to return to their usual state.
Are You and Your Family Prepared for Recovery?
A new mother is often in charge of the bulk of responsibilities for an infant, and her schedule is linked to the baby's beck and call. These demands can make recovering from an invasive surgery more challenging. Mommy makeover recovery requires several weeks of rest, during which you will have weight restrictions that may prevent you from picking up your small child or children. You will need a friend or family member to be with you to provide care. Because of this, many women wait until their child is a little older and more independent. You may wish to schedule your mommy makeover in the winter months when you have more time off for the holidays.
Are You Finished Growing Your Family?
The breast augmentation, tummy tuck and liposuction typically included in mommy makeover should not complicate future pregnancies. However, additional pregnancies can impact the surgical results. For this reason, Dr. Krau advises his patients that it is best to wait until they feel their family is complete and don't plan on getting pregnant again, before having a mommy makeover.
Have You Picked a Board-Certified Plastic Surgeon?
Dr. Ary Krau is nationally recognized for his natural-looking results and media appearances. He is board-certified by the American Board of Plastic Surgery (ABPS) and performs mommy makeovers in a fully accredited surgical facility with an overnight suite available for extra care when needed. He is known for putting in the time necessary to give you the best results possible and ensure your safety. Make sure you choose a plastic surgeon who is ABPS-certified with ample experience performing mommy makeovers.
Schedule Your Consultation with Dr. Ary Krau
If you're interested in a mommy makeover, contact our Miami plastic surgeon today. Schedule your consultation with Dr. Krau by calling (305) 861-6881 or filling out our online contact form.