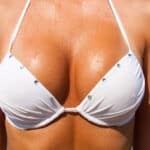 Many women have more than one concern about their breasts. Some may feel their breasts are too big, too small, or too saggy or shapeless. If you are concerned about more than one of these issues, a breast lift with implants procedure may be right for you. Here, Dr. Ary Krau discusses five benefits to combining breast augmentation surgery with breast lift.
A safe and quick procedure. Using advanced techniques and years of cosmetic surgery experience, Dr. Krau is able to perform this combination surgery in about an hour to an hour and 15 minutes. When done separately, breast augmentation and breast lift surgeries take about an hour. After the procedure, patients rest in our recovery suite for a short amount of time while the anesthesia wears off.
Pricing. One thing that may make a woman decide not to pursue cosmetic surgery is the cost. But you may find that you can get a higher value for your money by combining the two procedures. The cost for breast augmentation starts at $4,500, and the cost for a breast lift starts at $5,000. A combination procedure starts at $6,500. By opting for a combination procedure, you will only pay the facility and anesthesia fees once.
Youthful-looking breasts. Many women who want bigger breasts also want younger-looking breasts. With a breast lift, the nipple, areola and implants are raised to a higher position for a perkier result. The breast augmentation with lift procedure is a great option for women who desire implants but whose breasts are shapeless and saggy as a result of weight loss.
An improved figure. Improving the shape and size of your breasts will also improve the overall look of your figure. Dr. Krau will sit down with you before surgery to discuss what size implants are best suited for your height and body frame. A breast lift only adds to a better figure by providing a sexier shape.
Feel happier! Gain even more self-confidence by experiencing the "push-up bra" effect of the combined procedure. Not only will your breasts be the size you've always wanted, they will also have.
Dr. Ary Krau is the Trusted Choice for Breast Lift with Implants Surgery
With two decades of plastic surgery experience, Dr. Ary Krau provides over 500 breast lift with implants surgeries per year to women seeking bigger and perkier breasts. The satisfaction of his patients is a top priority for Dr. Krau, which is why he sits down with each patient before surgery to discuss her personal needs and goals. For more information on breast lift with implants surgery, schedule a consultation with Dr. Krau and he will be happy to answer your questions. Please call us today at (305) 861-6881.