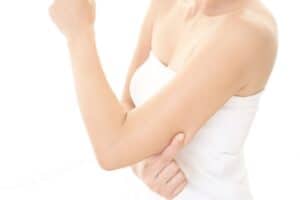 Slim, toned arms are highly desirable among both men and women. Unfortunately, weight loss efforts sometimes fall short in achieving attractive arms. This is because loose skin and tissue as a result of genetics, weight fluctuations and aging do not respond to diet and exercise. Dr. Ary Krau, a top Miami plastic surgeon, has helped many men and women get the arms they want.
About Arm Lift
Arm lift is a body contouring procedure that eliminates loose skin and tissue on the upper arms. During the procedure, incisions are made on the upper arms (usually on the inside or back). The exact length of the incisions depends on the degree of correction needed. Through these incisions, the surgeon will reshape and tighten the underlying tissues for a smoother and more attractive look. Excess skin is trimmed and the skin that remains is re-draped over the newly contoured arm.
Arm lift is a great choice for patients who have lost a large amount of weight but struggle with loose, hanging skin.
About Liposuction
Liposuction is the gold standard in fat removal. It involves creating several small incisions on the arm and inserting a small, thin tube called a cannula through them. The cannula is moved back and forth, breaking up the fatty tissue. The fat is removed through gentle suction and the incisions are closed with sutures.
Liposuction is an ideal option for patients who are at or near their ideal weight but struggle with small pockets of fat that do not respond to diet and exercise. It is not an appropriate for major weight loss.
Combining the Two Procedures
In some cases, combining arm lift and liposuction yields the best results. If you have loose skin and fatty pockets on the upper arms, Dr. Krau may recommend having both liposuction and arm lift. Dr. Krau is very meticulous in his surgical approach and will carefully plan the incision points to achieve the most desirable cosmetic result.
Dr. Krau can discuss your options for lean and well-sculpted arms during an in-person consultation. To book an appointment, please call (305) 861-6881 or email our Miami office today.