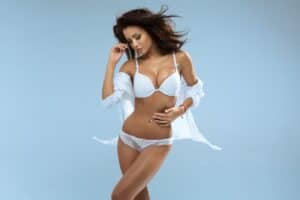 Many women desire an hourglass-shaped figure, which entails a larger bust, curvier hips and thighs, and a smaller waist.
Some women develop this body shape naturally, while others rely on cosmetic procedures to achieve this goal.
For anyone who'd like to have an hourglass figure, Dr. Ary Krau shares which cosmetic procedures can be performed to achieve this body shape.
Breast Augmentation
Breast augmentation surgery can help patients achieve an hourglass figure by expanding the projection of their breasts, thus making their waist appear smaller. Breast augmentation involves placing implants in the breasts, giving them a fuller, rounder shape.
Brazilian Butt Lift
A Brazilian butt lift is a procedure in which patients' own fat is used to increase the size of the butt and improve its shape to create flattering hourglass curves.
Tummy Tuck
A tummy tuck is a cosmetic surgery that removes excess skin from the patient's stomach and reconstructs the abdominal wall. Tummy tucks result in a tighter, smoother and flatter stomach and an improved abdominal contour.
Liposuction
Liposuction is another means of improving a patient's body contour. During liposuction, stubborn fat cells are permanently broken up and removed from patients' bodies, most often from their abdomen, hips, waist, and thighs.
Combining Tummy Tuck and Liposuction
Each of these procedures can improve the appearance of a person's body. However, for many patients, none of the procedures are as effective at creating an hourglass contour on their own as when the procedures are combined.
Tummy tucks flatten the patient's stomach but they don't necessarily give them an hourglass silhouette. To achieve that, patients also need targeted liposuction.
This combination of a tummy tuck and targeted liposuction is often referred to as an hourglass tummy tuck and it provides patients with the benefits of both procedures.
An hourglass tummy tuck gets rid of excess skin and firms the patient's abdomen. Plus, it removes fat cells from select areas of the body, including the abdomen, flanks and lower back, the goal being a smaller, more defined waist.
The removed fat is then purified and transferred to the patient's hips for a rounder, curvier appearance. The resulting waist-to-hip ratio is the hallmark of an hourglass figure.
With an hourglass tummy tuck, patients get a more defined waist, a flatter stomach, and beautifully contoured hips, creating the sexy hourglass figure they desire.
Schedule an Appointment
If you want to learn more about how you can achieve an hourglass figure, call or email the office of Dr. Ary Krau and schedule an appointment today to discuss the option that's best for you.