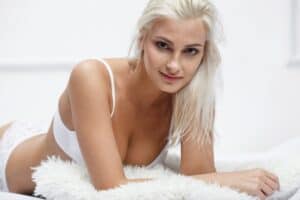 Working hard to lose weight through diet and exercise is an incredible accomplishment that should be celebrated. Unfortunately, weight loss doesn't always guarantee beautiful body contours, especially if you lose a lot of weight in a relatively short period of time. Significant weight loss can actually leave some areas of your body, such as your arms, looking loose or saggy.
If you are a weight loss warrior who feels embarrassed of saggy arms, arm lift (also known as brachioplasty) with Dr. Ary Krau can help.
Arm Lift Versus Liposuction
For some patients, liposuction is a suitable solution to reduce and sculpt heavy upper arms. However, it is only effective if the arm skin is firm and elastic. The skin needs to be able to contract over the arms after liposuction in order to achieve a good-looking result.
If you have lost a lot of weight, chances are your arm skin has become too loose. Simply removing excess fat will not give your arms the lean or elegant contour you desire; in fact, removing fat may accentuate the laxity of the skin.
Arm lift removes excess fat and tailors the skin to wrap smoothly around the arms. After arm lift, your arms will look slimmer and well-defined. With sleeker arms, you will feel more confident wearing certain types of clothing, such as sleeveless tops or tailored jackets, which you may have spent years avoiding.
What to Expect With Arm Lift
Arm lift is usually performed on an outpatient basis. Anesthesia is administered to keep you completely comfortable during the operation.
Dr. Krau will begin by making an incision on the inside of your arm, from the armpit to the elbow. (The exact length of the incision depends on the amount of tissue and skin laxity.) Through the incision, Dr. Krau will remove excess fat and tighten the arm tissues. He will excise redundant skin and re-drape the remaining skin more smoothly over your arm tissues. When Dr. Krau is happy with the new arm contours, he will close the incisions with sutures and place bandages and a compression garment.
After arm lift, bruising and swelling are to be expected. You may also experience a sore, tender or numb sensation as your arms heal. Most patients take a week or two off from work and their normal activities to recuperate.
You will see initial results several weeks after surgery as the aftereffects subside, and your results will continue to improve over the next few months.
Contact Our Arm Lift Surgeon Today
If you would like to learn more about the procedure and how it can help you attain the slim, sleek arms you dream of, please call or email our practice today. We are happy to schedule an appointment for you to discuss arm lift with Dr. Krau.