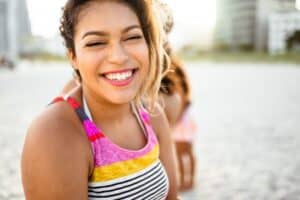 As one of Miami's leading plastic surgeons, Dr. Ary Krau has his finger on the pulse of the latest beauty trends. This year was a particularly exciting year for the beauty industry, with plenty of exciting product and treatment offerings.
When asked about the biggest beauty trends of 2019, here's what Dr. Krau had to say.
Top Makeup Trends
"Your lips but better": Walk into any Sephora and you will be greeted by rows and rows of red, pink or berry-colored lipsticks. But in 2019, beauty enthusiasts eschewed bright shades, instead buzzing about the perfect "your lips but better" shade — a natural looking color that ever-so-slightly enhances your natural lip color.
A luminous body glow: A fresh-faced glow will always be on-trend. But in 2019, beauty lovers embraced a head-to-toe glow, similar to what you see on celebrities hitting the red carpet. The look is easily achieved with products like shimmering body lotions or balms.
Full, natural-looking brows: Painted-on, product-heavy eyebrows were on their way out in 2019, making way for fuller, natural-looking brows. Think perfectly imperfect brows that are fluffy in front and mildly groomed at the tail.
Top Skin Care Trends
Clean skin care products: This year more companies entered the "clean beauty" space, offering products free from harmful irritants or questionable ingredients. Offerings from brands like Drunk Elephant and Farmacy were particularly popular.
Men's personal care products: Women are not the only ones who want to look and feel attractive, and personal care companies like Jack Black and Kiehl's now offer more products aimed specifically at men's skin care needs.
Most Popular Professional Treatments
Microneedling: Few professional treatments created a buzz in 2019 like microneedling, which uses a needle-tipped, pen-like device to create miniscule punctures in the skin. This process stimulates the production of new collagen and elastin to improve a range of conditions including fine lines, wrinkles, acne scarring, uneven skin texture and brown spots.
Dermal fillers: Dermal fillers have been popular for years, but injectors are continuing to find versatile ways to use these products. In addition to smoothing out wrinkles and facial folds, fillers are now commonly used to add definition and contour to the cheeks or plump up hollow-looking temples.
Hydrafacial: Millions of people experienced the benefits of the Hydrafacial in 2019. The facial, which uses a special device that cleanses the skin and infuses it with hydrating serums, helps create a brighter and clearer complexion.
Achieve Your Beauty Goals in 2020
Dr. Krau's passion is helping patients look and feel their best. If you want to enjoy a more radiant appearance in 2020, he can help. Contact our practice today to request a consultation with Dr. Krau to discuss your personal beauty goals.