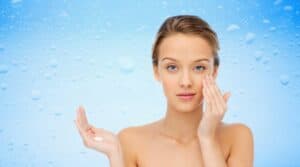 Memorial Day weekend is here, signifying the unofficial start of summer. Regardless of whether you plan on spending a lot of time at the beach or poolside, you are going to want your arms, legs and face to look healthy, youthful and glowing this summer. Here, Dr. Ary Krau, one of Miami's top plastic surgeons, offers his best tips on how to get your skin summer ready.
Exfoliate, Exfoliate, Exfoliate
Exfoliating rids your skin of oil that builds up on the skin, unclogs the pores and jumpstarts the body's collagen regeneration process for healthier and fresher skin. Exfoliate your skin one to two times a week at home, before applying makeup, lotion and sunscreen. For deeper exfoliation, consider a chemical peel.
Dump Your Old Makeup Brushes
It's good practice to clean or replace your brushes and other makeup tools every few weeks or months. As you prepare for summer, take the time to go through your makeup repertoire and throw out old, worn out makeup and brushes that may harbor bacteria or other pollutants that can irritate your skin. Clean your brushes regularly with warm water and soap or a buy a mild cleansing solution.
Go Lightweight
Lightweight makeup, moisturizers and sunscreens are less likely to clog your pores and cause breakouts than heavy or oil-based products that are usually best left for dry winter weather. Swap a heavy foundation for a lightweight cream, preferably one that comes with SPF protection. Lightweight makeup and skin products provide the right amount of coverage without feeling heavy on the skin.
Consider Laser Skin Resurfacing
For extensive skin damage, consider laser skin resurfacing with Dr. Krau. Laser skin resurfacing uses short pulses of light energy to vaporize the superficial layers of the skin. This also triggers the body's collagen regeneration process. Laser skin resurfacing can be used to minimize the appearance of fine lines, wrinkles, hyperpigmentation, age spots, enlarged pores and other skin concerns.
For more skin care tips, or to learn more about skin resurfacing, please schedule a personal consultation with Dr. Krau. Call (305) 861-6881 today.