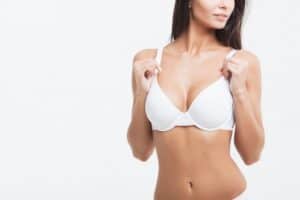 Many of Dr. Ary Krau's prospective breast lift candidates share concerns about noticeable scarring. Although some scarring is unavoidable, Dr. Krau takes a meticulous approach to surgery to make the scars as discreet as possible. His patients often tell him that their improved breast appearance and self-confidence is well worth the minimal scarring.
Where Are Breast Lift Scars Located?
The degree of scarring depends on the surgical incisions, and the incisions are based on the severity of the breast sagging as well as the specific surgical changes that are required. In general, a patient who has mild sagging and only requires minor surgical changes will have less scarring than a patient with severe sagging who requires more comprehensive surgical changes.
There are several breast lift incision patterns. Depending on the degree of breast sagging, the surgical incisions may be made in one of the following patterns:
• "Doughnut" shape: encircling the edge of the areola
• "Lollipop" shape: encircling the areola and extending vertically down to the base of the breast
• "Anchor" shape: encircling the areola and extending vertically down to the base of the breast and horizontally along the breast crease
How Noticeable Will the Scars Be?
Dr. Krau would be happy to show you before-and-after photographs of past breast lift patients to help you visualize scars from each incision pattern. This can help put some of your concerns to rest, as you can see the approximate location and severity of scarring on actual patients.
When planning your surgery with Dr. Krau, the two of you will map out your incision pattern so you understand where your scars will be located on your breasts. After surgery, your incisions will be raised and red at first, and then gradually flatten and lighten over time. Although everyone heals differently, you can reasonably expect to see your final result about six months to a year after surgery. Your scars will not be noticeable under a bikini top, bra or low-cut shirt.
Proper Aftercare Matters
How well you take care of yourself after breast lift surgery plays an essential role in your end result. Most importantly, you should allow your breasts time to heal by resting and relaxing as much as possible after surgery. Dr. Krau will also explain how to keep your incisions clean and dry so they heal well for minimal scars. You will check in with him at several points throughout your recovery so he can evaluate your healing process and ensure visible scarring is discreet.
If you are worried about scarring after breast lift, Dr. Krau would like to help assuage your concerns. Contact our practice today to request a consultation with him.