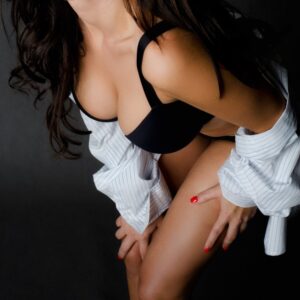 Slight breast asymmetry is completely normal and can change throughout life due to major hormonal changes such as puberty, pregnancy and menopause. But moderate to severe breast asymmetry is less common. When your breasts are two different sizes or shapes, it may be hard to feel confident in your body and nearly impossible to find bras or clothing that fits properly.
If you are bothered by asymmetrical breasts, Dr. Ary Krau can help. Take a moment to learn more about the treatment of breast asymmetry.
How To Fix Breast Asymmetry
Dr. Krau can address breast asymmetry with breast augmentation, breast reduction, breast lift or a combination of the procedures. The approach he recommends for your case will depend on your unique anatomy and your surgical goals.
Do you prefer the size and shape of your smaller breast? Dr. Krau's solution may be to reduce and lift the larger breast to achieve a contour closer in shape to the smaller one.
Alternatively, would you like your smaller breast to match the size and fullness of the larger one? Dr. Krau can add more volume to the smaller breast with a saline or silicone implant. Fat grafting is another option to add modest volume and fullness.
With every breast asymmetry case, Dr. Krau will also ensure that the nipple-areolar complex of both breasts is even in size and position.
Rarely does Dr. Krau operate on only one breast without making some improvement to the other. It is difficult to match one breast to the other without slightly tweaking the "model" breast. For example, if you want your smaller breast to match your larger breast, you may need breast implants in two different sizes to achieve an even result.
Breasts Are Sisters (Not Twins)
Regardless of your treatment plan, keep in mind that it is unlikely your breasts will look exactly identical after surgery. Think of breasts as sisters — not twins. It is perfectly normal to have slight unevenness in the size and shape of your breasts. But the discrepancy should be hardly noticeable after breast asymmetry correction. If it bothers you long-term, talk to Dr. Krau about tweaking your results with another procedure.
Feel Comfortable In Your Own Skin
You deserve the confidence that comes from being comfortable in your own skin. If breast asymmetry is interfering with the way you feel about yourself, Dr. Krau is here to help. Schedule a consultation with him today to discuss your breast asymmetry treatment options.