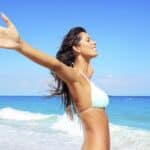 Miami is one of the United States' "beauty capitals" — meaning it is a hot spot for quality plastic surgery. The entire South Florida region is home to many elite plastic surgeons that provide a wide range of cosmetic treatments. Read on as Dr. Ary Krau reveals the most popular plastic surgery procedures in the South Florida area.
1. Breast Augmentation
According to statistics from the American Society of Plastic Surgeons, the most popular procedure in South Florida is breast augmentation. More women than ever are opting to have their breasts enlarged with saline or silicone implants.
Breast augmentation is one of Dr. Krau's specialties. He has more than 20 years of experience and currently performs nearly 1,500 breast augmentation procedures annually. Dr. Krau is one of 35 plastic surgeons in the nation selected for the Mentor LEAD Program Advisory Board, which helps shape the future of breast augmentation techniques and products. Thanks to Dr. Krau's breast augmentation expertise, thousands of women in Miami and the surrounding areas enjoy bigger, sexier breasts!
2. Liposuction
Thanks to its year-round sunshine and warm temperatures, Miami residents spend many months in bathing suits; as such, it's understandable that body contouring with liposuction — which can produce a beautiful beach body — is a very popular plastic surgery procedure in this city.
Liposuction is not a weight loss procedure; instead, it removes selective pockets of fat from areas of the body to create a slimmer and more sculpted shape. It can be used to sculpt the abdomen, buttocks, hips, thighs, upper arms, back and even smaller areas like the ankles, neck and chin.
3. Facelift
Facelift is another extremely popular plastic surgery procedure in South Florida, perhaps because the pleasant climate attracts so many active retirees. By minimizing signs of aging and subtly improving the facial contours, facelift turns back the clock by 10 to 15 years. The aging process doesn't stop, but patients look like younger versions of themselves.
4. Eyelid Surgery
Facelift is great for overall facial rejuvenation, whereas eyelid surgery concentrates solely on aging eyes. Eyelid surgery can treat the upper eyelids, lower eyelids or both. The lids look tighter, smoother and more youthful after surgery. Dr. Krau is known for his subtle approach that refreshes the entire eye area without any telltale signs of surgery.
5. Nose Reshaping
Another popular procedure in South Florida is rhinoplasty, or nose reshaping surgery. Although many plastic surgeons consider rhinoplasty the most difficult type of surgery, Dr. Krau embraces the challenge and enjoys creating beautiful results. Through rhinoplasty, he can reshape an oversized, crooked or wide nose, remove a visible hump, refine the nostrils or nasal tip and correct anatomical abnormalities that obstruct breathing function.
Meet Our Miami Plastic Surgeon
If you would like to meet one of Miami's most trusted plastic surgeons and discuss your specific cosmetic objectives, please call (305) 861-6881 or email Dr. Krau today.