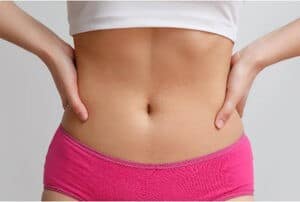 When you visit a plastic surgeon to discuss a procedure, you should try to be as specific as possible about your aesthetic goals. A great plastic surgeon will do his or her best to customize the surgery to meet those goals — with abdominoplasty being no exception. Board-certified plastic surgeon Ary Krau describes a few of the ways that he can customize tummy tuck to better address your needs.
Adding Liposuction
Because it is common for fat deposits to stubbornly stick to the midsection, many patients choose to incorporate liposuction as part of their tummy tuck procedure. If you are already at your ideal weight, you may have no need for liposuction. However, if pockets of fat around the abdomen have not responded to diet and exercise, then liposuction is probably your best bet to tone up the stomach before tightening the skin with tummy tuck.
Repositioning the Belly Button
Removing and tightening the abdominal skin can alter (or even cover) the placement of the belly button, making the navel look less natural. Dr. Krau can correct for this problem by making a new incision that looks more natural and appealing than it did even before the surgery.
If you have always wanted your navel to look differently than it currently does, be sure to express that desire during the consultation. Dr. Krau can use this opportunity to craft a belly button that is more to your liking.
Correcting Abdominal Muscles
When your stomach expands (usually from pregnancy or significant weight gain), your abdominal muscles are at risk for separating. Diastasis recti describes when the muscles on the left and right side shift out of place. While performing tummy tuck, Dr. Krau can repair the muscles, restoring them to their correct position, which helps to achieve the look and shape of a toned stomach.
A "Mini" Option
Some patients find that their skin sags only beneath the belly button, meaning that they do not need as intense of a surgery. In these cases, Dr. Krau may perform what is known as a "mini tummy tuck," which targets a smaller area of skin and requires a smaller incision.
You may discuss this option with Dr. Krau during your first appointment. He will assess whether you are a good candidate. However, you should be aware that most patients are better served by the traditional surgery. If you have skin that should be treated above the navel as well, only focusing on the lower section can achieve less-appealing results.
Meet with Dr. Krau
Attaining your ideal stomach is possible with the help of a plastic surgeon who carefully listens to your requests and has the technique to achieve your desired changes. Known throughout the United States as a top surgeon, Dr. Krau is beloved by his patients for his attention to detail and transformative surgical skills. To schedule an appointment at his Miami practice, please call (305) 861-6881.