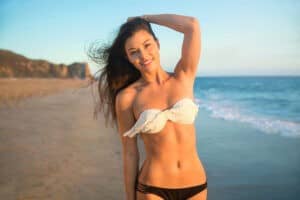 Everyone wants a flatter stomach, but loose skin and surplus fat can be resistant to even strict diet and exercise efforts. Tummy tuck is a popular cosmetic procedure because it recontours the midsection. When prospective abdominoplasty patients consult with Dr. Ary Krau, a board-certified plastic surgeon in Miami, they often express concern over how "natural" they can expect their results to appear. In this blog, Dr. Krau candidly discusses the feasibility of achieving natural outcomes from tummy tuck surgery.
Scarring
The most obvious clue that a patient has had abdominoplasty is the scar. To perform this surgery, Dr. Krau must make a long, horizontal incision, which means that, unfortunately, having a scar is unavoidable. The good news is that Dr. Krau places his incision low enough that the scar can be concealed with most types of underwear or bathing suits. As long as patients are not completely nude, it should not be difficult to cover up this evidence of a surgical procedure.
Skin and Fat
A good plastic surgeon knows that tummy tuck must be approached with an artistic eye and precise technique since removing extra skin and fat is not enough to achieve good contours. To ensure that the stomach looks authentic, the skin should rest tightly against the ribs, and fat should seem proportionate to other parts of the body. Some patients may prefer to have a realistic-looking figure rather than the flattest stomach possible. Dr. Krau understands this nuance and has the technique to achieve the patient's desired aesthetic.
The Navel
The belly button is another important factor in keeping the midsection looking natural. When the belly skin is pulled taut, this tends to smooth the existing navel hole, which can look awkward. To correct for this, Dr. Krau makes an incision around the belly button so he can create a new hole that fits the new contours of the stomach. Patients should be cautious of any surgeon that does not discuss a plan for the belly button during a consultation; in the hands of a less-skilled surgeon, this can be the aspect that ends up looking the most artificial.
Trust a Leading Surgeon for Natural Results
At the risk of stating the obvious, the best plastic surgeons are known for achieving the most appealing and natural-looking tummy results. Patients who shop around for a discount doctor are often unhappy with their results. Instead, check that the surgeon has impressive credentials and ask to see before-and-after photos that demonstrate high-quality work. (You can view Dr. Krau's tummy tuck gallery on this site.) To schedule a consultation to discuss abdominoplasty in greater detail, please call (305) 861-6881 today.