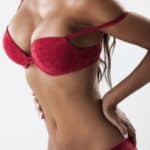 Breast lifts can work wonders for your appearance and your self-confidence and self-esteem. Lifting a saggy breast area can result in a much slimmer, much more youthful and even more energetic profile, and when performed by a skilled surgeon, the results of a breast lift can last for years.
Of course, like any cosmetic procedure, how long a lift lasts for a specific patient really depends on patient-specific factors, including genetics. The longevity of a lift also depends on the condition that encouraged the patient to have the lift in the first place: Did the breasts sag due to pregnancies? Did it occur following significant weight gain or loss? Did the condition develop over years as the result of aging, or did the patient (especially if they are large-breasted or have large implants) make it a habit to go braless – especially when jogging or engaging in similar activities? Even today's advanced lift techniques cannot undo the effects of patient behavior.
Even when weight remains stable and adequate support is provided, age-related changes like thinning skin and loss of elasticity, coupled with that irrefutable force of nature – gravity – can also cause lifted breasts to begin to move southward once more. When that happens, revision surgery can be a woman's best friend.
Breast revision surgery uses innovative surgical approaches that have been developed to provide support for sagging tissues. Dr. Krau uses the most up-to-date and advanced techniques to help ensure your breast lift revision surgery provides years of satisfaction.
For those patients with implants, revision surgery is also a prime opportunity to switch existing implants with newer implants – perhaps of a different material or in a different size. If you don't have implants, you may want to consider incorporating them into your revision procedure to help lift the area by providing volume and fullness. In most cases, the incision site from your earlier surgery can be used, but if a new incision site is necessary, rest easy knowing that today's incision scars are much smaller and more skillfully hidden than those of a decade ago.
If you've had a breast lift in the past and the results of that lift have begun to fade, deciding to have a breast lift revision might be just what the doctor ordered to help you feel younger and more confident. Dr. Krau and the professional staff at our Miami plastic surgery center are ready to answer your questions, so call today at (305) 861-6881 to schedule a consultation.