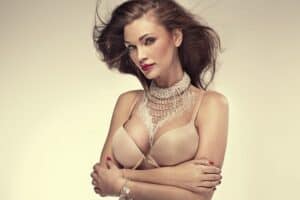 Although breast augmentation and breast lift are two completely different procedures, patients often confuse the two, according to Miami plastic surgeon Ary Krau. Breast augmentation involves inserting saline or silicone implants into the breasts to improve size and fullness. Breast lift removes skin and reshapes the tissue to elevate the breast and nipple.
What Do You Want to Change about Your Breasts?
To determine the procedure that is right for you, think about what you wish you could change about your breasts.
Are you happy with the general shape and projection of your breasts, but wish they were larger? Are your nipples already in a good position (e.g., pointing straight ahead or slightly upward)? If so, you will probably be happy with breast augmentation. Dr. Krau can help you select the implant type, shape and size that will give you the breast volume you desire.
Are you satisfied with your breast size, but wish your breasts were positioned higher on your chest? Do your nipples point downward and sit low on your breasts? The only way to lift the breast and nipple is with breast lift. Breast lift does not significantly change the size of the breasts, but it helps them look perkier.
Placing Implants in Sagging Breasts
Some women make the mistake of having implants placed in already-sagging breasts, thinking that the implants will "fill out" the extra skin and give them the full, perky breasts they desire. This approach only works in a very small percentage of cases, where the sagging is extremely minimal. Usually, placing implants in sagging breasts only accentuates the sagginess, as the implants weigh down the breasts.
Simultaneously Improve Breast Size and Position
If you wish to change both the size and position of your breasts simultaneously, you could benefit from breast lift with implants. This combination procedure removes excess breast tissue, reshapes the existing breast tissue higher on the chest, repositions the nipple and adds implants for greater fullness and volume. This might be a great option for you if you have noticed a change in your breasts after having children, breastfeeding or simply getting older.
Discuss Your Options with Dr. Krau
The best way to find the procedure that is right for your personal needs is to consult with board-certified plastic surgeon Ary Krau. He will guide you through your options, reviewing the pros and cons of each, and help you make a decision that you will be pleased with. Request a consultation with Dr. Krau by calling or emailing us today.