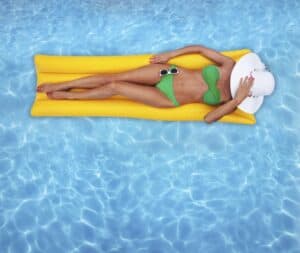 Regardless of whether you plan on spending all of your time at the beach or poolside this summer, sun protection is important. The American Academy of Dermatology (AAD) warns that as little as a few minutes outdoors can cause sun damage, which includes sunburns, hyperpigmentation, redness and premature wrinkles.
Keep your skin healthy and beautiful this summer by following these sun care tips from top Miami plastic surgeon Dr. Ary Krau.
Sunscreen 101
Sunscreen is a key defense against sun damage. Here is what you need to know about choosing and wearing sunscreen:
Broad spectrum. Sunscreens labeled as "broad spectrum" protect against both UVA and UVB rays. Overexposure to UVA rays can lead to premature wrinkles and lines, while overexposure to UVB rays can cause sunburns and increase your risk of skin cancer.
30 SPF or higher. Sunscreens with a sun protection factor (SPF) of 30 and above block at least 97 percent of the sun's UV rays. The AAD recommends wearing sunscreen with a SPF of 30 or higher.
Water resistance. If you plan on swimming this summer, choose a sunscreen that is labeled "water resistant."
Coverage. Apply sunscreen on all exposed areas of the body. This includes the neck, hands and the ears. The AAD recommends applying at least one ounce of sunscreen.
Reapplication. Reapply sunscreen as directed on your sunscreen's label, or every two hours.
Expiration date. Do not use sunscreen past its expiration date. If your sunscreen does not have an expiration date, throw the bottle away after three years of purchase.
Make it a habit to lather on sunscreen whenever outdoors, even during cloudy or overcast weather.
Additional Sun Care Tips
Seek shade whenever possible, especially during the hours of 10 a.m. and 2 p.m.
Do not use tanning beds, which also cause sun damage and put you at risk of skin cancer.
Protect your eyes and the delicate skin around them by wearing wraparound sunglasses that offer 100 percent UV protection.
Wear protective clothing like a wide-brimmed hat and long-sleeved clothing when possible.
Use quality skin products that use medical-grade ingredients to repair and protect skin from sun damage.
Rejuvenate Your Skin with a Non-surgical Treatment
Have years of sun damage left your skin looking dull or prematurely aged? Dr. Krau offers several treatments that can transform your skin and appearance without surgery. He performs Botox and dermal filler treatment to soften the appearance of wrinkles, and dermabrasion and laser treatments to treat redness, discoloration and other skin concerns. Each treatment is tailored to the individual patient's aesthetic needs and goals.
To learn more about the skin and anti-aging treatments Dr. Krau offers, please call (305) 861-6881 or email our office us today.