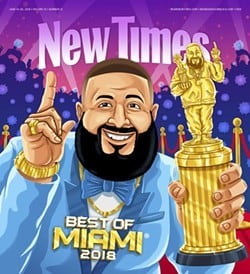 Miami patients have spoken. We're pleased to announce that Dr. Ary Krau has been voted Best Plastic Surgeon 2022 by the readers of Miami New Times! Known for his world-class skill, superb patient care and friendly demeanor, Dr. Krau strives to deliver the best treatment and care for his patients. The esteemed doctor is proud to earn this recognition from South Florida patients.
Dr. Ary Krau has a growing patient base that, as mentioned by Miami New Times, is in large part due to a long list of current and past patients that praise Dr. Krau's expertise, attention to detail and compassion. His dedication to the satisfaction and wellbeing of his patients is evident; to read honest reviews written by Dr. Krau's former and current patients, visit his patient testimonials page. Or, you can view the surgeon's before-and-after gallery to see examples of the beautiful and natural-looking results he consistently delivers.
As noted by Miami New Times, Dr. Krau regularly sees many patients from around the United States and abroad, and his experienced staff goes above and beyond to accommodate these patients. Dr. Krau's post-op patient care is second to none as his private aftercare recovery suite gives both local and out-of-town patients a peaceful and tranquil environment to heal after surgery. Dr. Krau's practice also has a nurse on call 24 hours a day to provide patients with advice, answers and peace of mind at all times.
For three decades, Miami New Times has provided a comprehensive guide to the "Best of the Best" in Miami — from restaurants and coffee shops to dentists and plastic surgeons. This year, more than 9,000 ballots were cast online and readers voted on more than 300 categories.
Dr. Krau has been recognized and featured by several other publications. Click here to view a list of magazine, print and television appearances made by Dr. Krau.
Contact Miami's Top Plastic Surgeon
To discuss your cosmetic needs and goals with board certified plastic surgeon Dr. Krau, please schedule a consultation. Contact our Miami office by calling (305) 861-6881 or emailing us today.