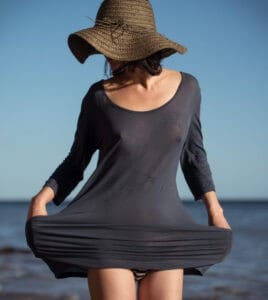 Although most cosmetic breast procedures focus on changing the size or elevation of the breasts, plastic surgery can also address another aspect: the nipples. In fact, Dr. Ary Krau, Miami's foremost breast specialist, has helped hundreds if not thousands of patients to improve the appearance of their nipples and areolas (the pigmented circles around the nipples). Here, he elaborates on some of the changes he can achieve with surgery.
Raising the Areola
Breast sagging (or ptosis) is a common effect of the aging process. That's why breast lift — a rejuvenating surgery that removes excess skin to elevate the position of the breasts — is so popular. Dr. Krau considers the areolas in each breast lift that he performs. As breast volume sags, the areolas tend to hang lower near the breast crease. To make the breasts look more youthful, he repositions them higher on the breasts. He also ensures that the nipples are "perky" (pointing outward) since many nipples start to point downward with age.
Reducing Areola Size
Areola size differs significantly from woman to woman, with some women even noticing a fluctuation in their areola size during their lifetime. For women who are dissatisfied with having large areolas, Dr. Krau can make an incision around the areola and carefully remove some of the pigmented skin, which will make the areola appear smaller in size. This is also a good method for fixing asymmetry issues so that both areolas look identical.
Deemphasizing the Nipple
Some women feel that their nipples are a little too prominent on their breasts, even through clothing. Usually, this occurs because the nipple extends further from the breast than the average nipple. Luckily, Dr. Krau can carefully remove the tips of the nipples, so they do not protrude as far. And for women who feel their nipples are too wide, Dr. Krau can shrink the circumference by removing tissue from the sides.
Correcting Inverted Nipples
About one in every 10 women have an inverted nipple — sometimes two. Inverted (or "retracted") nipples are those that either point inward or lie flat on the areola. Some women choose to correct nipple inversion for cosmetic reasons, while others do it so they can breastfeed more effectively and with less discomfort. With surgery, Dr. Krau can make an inverted nipple point outward without significantly interfering with the milk ducts.
Discuss Nipple Alterations with Dr. Krau
For years, Dr. Krau has been Miami's leading breast surgeon due to his anatomical knowledge, top-notch surgical skills and personalized care. If you are displeased with the appearance of your nipples, schedule a consultation to find out exactly what plastic surgery can do for you. Please call (305) 861-6881 today.