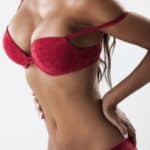 Good news for women considering breast augmentation surgery: A new study using a nationally- and internationally-approved survey shows women who undergo the procedure also experience sexual and psychosocial benefits that can result in a better quality of life overall.
The study used a validated survey called Breast-Q to question women about multiple quality of life issues both before and six months after their breast augmentation procedures. The Breast-Q survey is the only breast augmentation survey that meets both federal and international standards, which means the results are more standardized – and hence more accurate – than other surveys that address patient satisfaction levels following augmentation.
The results of this study, which included patients who underwent augmentation with a single surgeon between January 2008 and May 2009, indicated that women who have breast augmentation surgery experienced significant increases in physical, sexual and psychosocial well-being, in addition to greater satisfaction with their overall appearance.
Although patients reported increased satisfaction in several areas, the study showed that the patients who had the highest overall levels of satisfaction were those who were happiest with the appearance of their breasts following surgery. The survey also indicated that although many of the survey respondents reported decreases in physical well-being immediately following the procedure due to post-surgical pain, those feelings had no bearing on overall satisfaction levels, implying women were willing to experience temporary discomfort in exchange for the benefits they later experienced in terms of increases in quality of life and well-being.
Breast augmentation remains the most popular cosmetic surgery among women and the second most popular procedure overall, according to statistics from the American Society for Aesthetic Plastic Surgery (ASAPS) which reports that in 2012: 286,274 breast augmentations were performed.
The Breast-Q study helps illustrate why the procedure is so popular, and also highlights that breast augmentation offers benefits far beyond improved breast appearance.