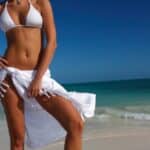 If you're considering breast augmentation but you're hesitating because you're not sure if you'll be happy with the end result, you might be interested in the results of a new study published in the American Society of Plastic Surgery's (ASPS) flagship journal, Plastic and Reconstructive Surgery. Conducted by Eric Swanson, M.D., director of the Swanson Center for Cosmetic & Laser Surgery, the study found that 98% of women who undergo augmentation surgery are very happy with their results.
The study looked at 225 women who underwent breast augmentation surgery and used interviews to determine overall levels of satisfaction and satisfaction with specific aspects of the surgery, like scar size, implant size and pain levels as well as quality of life measurements. The interviews were conducted at least a month after surgery to ensure the most accurate and relevant results.
What they found was that about half of those interviewed rated the procedure a perfect 10 on a scale from 1 to 10, and 98% - nearly every patient – said the surgery results met or exceeded their expectations. Just as amazing: 92% of the women surveyed said their self-esteem had improved following surgery and 64% reported an improvement in their overall quality of life. When patients are dissatisfied with results, it's usually because they're not entirely happy with the implant size. In this study, 85% said the implant size was "just right," while 13% said they would have liked a larger size. Less than 2% said they would have preferred a smaller implant.
To help patients achieve the highest levels of satisfaction with their augmentation, Dr. Krau uses a specially designed volume sizing kit designed by leading implant company Mentor so women can actually "try on" implants before surgery. Unlike other kits, Mentor's kit offers a range of sizers that look and feel just like the actual implants to help patients make the size selection to help patients form realistic expectation and provide the most satisfaction.
According to ASPS statistics, in 2012 about 286,000 breast augmentation procedures were performed in the U.S., making augmentation the most popular cosmetic surgery procedure in this country. The first step in deciding whether breast augmentation is right for you is to make an appointment with Dr. Krau. He and his staff can help you identify the results you're hoping to achieve and make sure you make the best decisions for your own lifestyle.