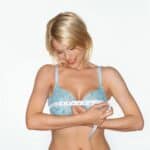 When it comes to breast augmentation, size truly does matter. Size is a personal choice. Depending on your body's size and structure – and, of course, your own goals and reasons for having breast augmentation – the size of the implant can have a significant impact on your overall satisfaction with the procedure. Choosing the right implant size can also eliminate the need for additional surgery to "swap" implants for a different size in the future.
Getting an idea of the size options that are available and how they'll look on you can be difficult. The good news is, if you're considering breast augmentation, there are a couple of options you can use to actually see how implants of different sizes will look even before you undergo surgery. The first relies on a couple of simple items that you probably already have at home: rice and pantyhose.
First, you need a pair of pantyhose with no holes in the foot or ankle areas. Cut them off a few inches below the knee and fill them with rice using the following guidelines: 1 cup of rice is roughly equivalent to a 240 cc implant and ½ cup is about the same as to a 120 cc implant. Tie off the pantyhose leg near the rice and place the bags of rice in your bra to get an idea of how different sizes will look on your body.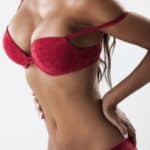 To get a much more accurate idea of a wider range of implant sizes, the volume sizing kit by Mentor is the way to go. Available in our plastic surgery facility, the Mentor Sizing kit allows you to "try on" 24 different volumes, ranging from 150cc-775cc so you can feel confident in the implant size you're choosing. What's more, the kit allows you to use a different sizer for each breast so you can see how implants can help you "even out" the natural size differences that may exist between the left and right sides.
There's no doubt that breast augmentation can have a significant impact on your life; in fact, a study by researchers at Ohio State University found that women who receive implants report not only better self-image following surgery, but also an increase in sexual well-being and better quality of life. Taking the time to realistically evaluate size options and the way they look on your own body is critical in helping you feel good about your implant procedure. To ensure the best results, ask Dr. Krau about Mentor's sizing kit and how it can help you visualize yourself and your new profile prior to surgery.