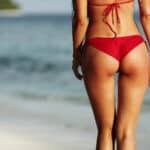 Cosmetic procedures such as liposuction, tummy tucks and facelifts are designed to lift, sculpt or remove unwanted excess fat from your body. These transformative surgeries will leave you feeling more confident about your body, body image, weight and appearance. However, they're not an alternative to healthy weight loss. In fact, maintaining a healthy weight—and diet and lifestyle—for at least a few months is a key component before undergoing a cosmetic procedure.
Start the transformation before surgery, not only to jump-start your self-confidence, but also to reach a steady weight prior to the procedure. Miami plastic surgeon Ary Krau, MD, says losing weight gradually with a healthy diet and exercise routine is better than a crash or fad diet. Cosmetic surgery can then eliminate sagging skin or excess fat that can't be reached through just a healthy diet and exercise.
Being a sustainable, healthy and stable weight is crucial. Sustainable and stable mean you practice a daily routine of eating nutrient-dense foods, like vegetables, low-fat proteins and whole grains, and exercising five to seven days a week. Crash diets, such as fasting and cleansing, aren't necessarily bad, but they don't support stable or sustainable habits—or a stable weight. Healthy lifestyle changes, including weight loss, happen gradually and over time.
By losing weight before the surgery, you'll greatly reduce the need for possible follow-up or revisionary surgery. Similarly, being healthy and fit ensures a speedier recovery from any cosmetic procedures.
It's best to see your cosmetic surgeon when you've reached your goal weight—or a normal weight—and can maintain those healthy habits. Then, work with your surgeon to determine what areas can be taken in, toned or tightened. Body contouring with liposuction eliminates fat that's resistant to diet and exercise. These procedures can eliminate sagging, excess skin from weight loss, previous surgery or pregnancy, and it can target other problem areas of the body.
Procedures that often complement body contouring include tummy tucks, face lifts, breast augmentation, breast lifts and breast reduction. Again, think of cosmetic procedures as the final touch to an already fit, healthy body—your board certified surgeon will help you determine which areas to target with cosmetic procedures to take your body contour to the next level.