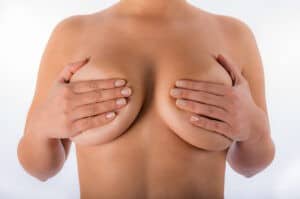 The plastic surgeon you select for your breast revision surgery is a vital component to reaching your desired breast appearance without further complications. There are many instances in which women are unhappy with their results due to aesthetics or implant complications. Dr. Ary Krau specializes in breast surgeries and has helped countless women achieve their cosmetic goals for their breasts.
Reasons for Breast Revision
Sometimes there's a medical need for breast revision, while other times it is for cosmetic purposes, including:
You're unhappy with your breast augmentation results.
You wish to replace your saline breast implants with silicone breast implants.
You'd like to remove your breast implants and use fat grafting to restore volume.
You have experienced capsular contracture (the tightening and hardening of the scar capsule around a breast implant).
One of your breast implants has leaked or ruptured.
You are struggling with symptoms you believe are linked to breast implant illness.
You wish to correct asymmetrical results from your original procedure.
One or both of your breast implants have shifted and appear uneven or lower in the chest.
You were in an accident that damaged the integrity of your breast implants.
You experience visible wrinkling or rippling with your breast implants under your breast tissue.
Your breasts have started to droop or sag, and you'd like a breast lift and to replace or remove the implants.
Breast implants are not lifelong devices and often need to be replaced every 10 to 15 years. Regardless of your reasoning, you have multiple options for breast revision surgery and may wish to have a breast lift or fat transfer breast augmentation at the same time.
Why Women Choose Dr. Krau in Miami for Breast Revision
Dr. Krau is a highly regarded Miami plastic surgeon who has appeared in the media many times, including on the Bravo TV reality series "Miami Vice." He is board-certified by the American Board of Plastic Surgery and focuses on natural-looking results. Dr. Krau takes a personal approach to every procedure, and his close attention to detail leads to high-quality results. View his before and after breast revision gallery to see the results achieved by real patients like you.
Safety always comes first for Dr. Krau. He performs your breast revision surgery at an accredited facility with an overnight suite available for patients who need extra time and care. Dr. Krau can be found on-site at all hours due to his dedication to patient satisfaction and safety. For nearly 30 years, he has helped women achieve the best outcome possible for their breast revision, and many have recommended their friends and family see Dr. Krau for their cosmetic concerns.
Schedule Your Breast Revision Consultation
If you're interested in breast revision, contact Dr. Krau in Miami to discuss your options. Schedule your consultation by calling (305) 861-6881 or filling out our online contact form.