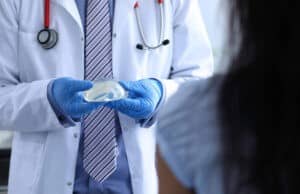 Breast implant revision involves many decisions. You may want to remove or replace your breast implants because you're unhappy with your results or experiencing complications, such as implant rupture or capsular contracture. One of the most important decisions you must make is the plastic surgeon, who will adjust your initial results or correct the complication. Dr. Ary Krau is a board-certified plastic surgeon with ample experience with breast revision surgery in Miami.
1. Certified by the American Board of Plastic Surgery
The American Board of Plastic Surgery (ABPS) is the only board recognized and approved by the American Board of Medical Specialties. Plastic surgeons must have a medical degree from an accredited medical school and six years of surgical training, with at least three in a plastic surgery residency. These doctors have to pass rigorous written and oral exams and complete yearly continued medical education (CME) courses, including one on patient safety. ABPS-certified surgeons only perform procedures at state-licensed, Medicare-certified, AAAASF-accredited surgical facilities.
Dr. Ary Krau is ABPS-certified and a proud member of the American Society of Plastic Surgeons (ASPS) and other professional organizations.
2. Experience with Breast Revision
Breast revision is more complex than primary breast augmentation because there is scar tissue from the first surgery, so it requires a customized surgical technique. An experienced plastic surgeon understands the nuances of revision breast surgery and can determine the source of the issue (such as a hardened scar capsule around the implant) and create a plan to address it for successful results. You want a breast surgeon who will use the best incision techniques to reduce future scarring and provide beautiful results that improve your initial outcome.
3. Patient Reviews
We live in a world where reviews dictate many of our day-to-day choices, especially those that affect our health and body. When looking for a breast revision surgeon, read their patient reviews to see the good (and bad) things their patients have to say about their plastic surgery practice. You want a plastic surgeon who not only is known for providing excellent results but also takes patient safety and satisfaction seriously. Reviews and testimonials can help you get a sense of the doctor's bedside manner, track record for results, and how they handle concerns or complications.
4. Before and After Images
Most plastic surgeons share before-and-after photos on their website. Look for patients who had breast revision or breast augmentation to get a feel for what you can expect from your procedure. You can view Dr. Krau's photo gallery to see before-and-after images of breast revision surgery.
5. Schedule a Consultation
Once you've narrowed down your choices for a breast revision surgeon, schedule a consultation. Bring a list of questions with you and pay attention to the office, staff, and overall atmosphere. You need a plastic surgeon who makes you feel comfortable before, during, and after your breast revision. Dr. Krau emphasizes patient safety and care throughout the entire process at his Miami office. You will meet with him for your consultation, before and after your surgery, and for all follow-up visits.
If you need breast revision surgery, schedule a consultation with Dr. Krau today. Contact our office in Bay Harbor Islands, Florida, at (305) 861-6881.