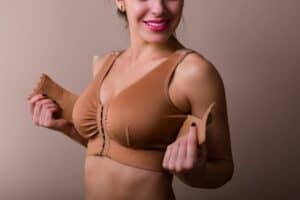 Compression garments can help accelerate the healing process after plastic surgery and minimize postoperative discomfort. Depending on the procedure you undergo with Dr. Ary Krau, he may recommend you wear a compression garment over the treated area to ensure a safe and comfortable recovery. Read on as Dr. Krau reveals what you should know about these garments.
Benefits of a Compression Garment
A compression garment puts pressure on the body as it heals from surgery. The garments are made from strong materials such as nylon or Lycra, and come in different styles and sizes so they can be worn on different parts of the body.
Some garments resemble girdles and are worn over the torso after abdominal liposuction or tummy tuck. Other garments resemble stockings or sleeves and are worn over the arms or legs after liposuction. There are also compression bras, which resemble sports bras without underwire and are worn after breast augmentation, reduction or lift.
Compression garments offer several key benefits after plastic surgery:
• Control swelling that forms after surgery – the pressure of the garment prevents fluid buildup and encourages the body to absorb fluid that does accumulate
• Reduce bruising – the pressure prevents blood from moving toward the surface of the skin
• Protect the delicate incision sites
• Help skin retract or contract over the treated area – the garment provides support to the healing skin and reduces the risk of laxity or wrinkling
Prior to your surgery, Dr. Krau and our team can take your measurements and help you find a compression garment that fits you properly. Your garment should feel snug, but it should not be uncomfortable or interfere with your breathing.
How Long Is a Compression Garment Normally Worn?
We will give you specific instructions and a timeline for wearing your garment after surgery, depending on your individual treatment plan. In general, the more you wear it, the more effective it is. You can expect to wear the garment full-time for about three weeks after surgery, removing it only to shower and get lymphatic massages (if massage is part of your post-operative routine). After the initial recovery phase, you can switch to wearing the garment for only 12 hours a day for about six weeks. Many patients prefer to wear the garment at night while sleeping.
To learn more about the use of compression garments after plastic surgery, please contact a member of our team. You can give us a call or send us an email today.