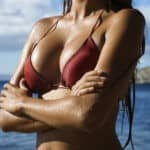 Let's face it—whether due to motherhood or just aging, many women are dissatisfied with the position, shape, perkiness and fullness of their breasts. As many women know and have experienced, a breast augmentation, breast lift, or combination of both procedures can restore or improve the shape and fullness of breasts.
A breast lift is used to lift sagging breasts. Many women experience excess sagging after pregnancy and breastfeeding, after losing a lot of weight, or just with aging. A breast lift can be paired with an implant to restore the shape of the upper part of the breast to a youthful fullness. However, it's not necessary to pair a lift with implants or augmentation—Ary Krau, MD, board-certified plastic surgeon, has years of experience performing breast lifts with and without implants.
Some women who choose to have a breast augmentation may greatly benefit from also having a lift, depending on the degree of sagging.
A breast augmentation can be performed in conjunction with a breast lift or on its own. Dr. Krau works with the patient to determine the size, shape and fullness they're going for. Based on those guidelines and the individual patient, he makes a recommendation on implant size, incision type, and whether the patient would benefit from a combined lift procedure.
Dr. Krau has performed thousands of breast augmentations and lifts, and he credits his satisfied patients with his attention to detail and techniques to reduce scarring. Instead of using the anchor incision, Dr. Krau prefers the vertical mammaplasty, which doesn't produce the same horizontal scar along the bottom crease of the breast. He's found this technique produces more successful results, with less tension on the skin and more structure to support the breast.
If you're unsatisfied with the shape and fullness of your breasts, a breast lift, breast augmentation or combination can restore your breasts to a youthful size, height and contour with minimal scarring and excellent results.