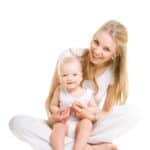 If you're a mom, you know the toll having a baby can take on your body. Breasts, stomach, thighs…whereas before pregnancy, regular exercise and diet could easily restore your body, after pregnancy, your body may not necessarily rebound to its shape or size with the same exercise and diet.
A Mommy Makeover can help fix that—and restore your body to your pre-pregnancy shape. While during your pregnancy your skin was glowing and beautiful, hormonal fluctuations during and after pregnancy can affect the skin. Say goodbye to saggy breasts and loose skin around the abdomen, common after a woman loses the "baby weight" that often comes with pregnancy.
Through a series of surgical procedures, plastic surgeon Ary Krau, MD, can rejuvenate, tighten and sculpt your body to leave you looking and feeling like the beautiful, empowered woman you are.
Mommy Makeovers let you and the surgeon take a full-body look to what you'd like to tuck, lift, tone or tighten. Often these procedures include breast lift, breast augmentation, tummy tucks and skin rejuvenation. You may also have other areas sculpted or lifted, including the buttocks, thighs and arms.
How Does It Work?
Mommy Makeovers begin with a desire to get to your pre-pregnancy body. Dr. Krau recommends women delay undergoing any procedure until their post-pregnancy weight has stabilized, they've stopped breastfeeding, and ideally, they've reached their ideal weight. This enables Dr. Krau's craftsmanship and techniques to have the most payoff—and achieve the greatest results.
Dr. Krau works with each individual to discuss problem areas and a client's ideas of how she wants her body to look. He brings years of experience and expertise to each client—and he has the before-and-after images to support his experience.
Don't let the look of your post-baby body weigh you down. Learn more or schedule a Mommy Makeover that can do more than enhance and sculpt your body—it can boost your self-esteem and confidence.