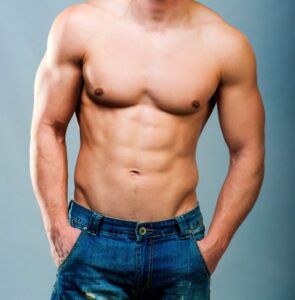 Gynecomastia, a medical condition characterized by enlarged breast tissue, is a cause of physical and emotional discomfort for many men. As a result, the number of men seeking out male breast reduction surgery has continued to increase over the years. When performed by a qualified, board-certified plastic surgeon, male breast reduction can have a tremendous impact on a man's appearance and self-confidence.
If you're considering undergoing male breast reduction surgery, Dr. Ary Krau can help. Read on as our Miami plastic surgeon shares what you need to know about the procedure.
What Male Breast Reduction Does
The goal of male breast reduction is to remove excess breast tissue and create a flatter and more classically masculine chest. Dr. Krau can accomplish this by doing any combination of the following:
Removing excess fat. Using liposuction techniques, excess pockets of fat are removed from the chest.
Removing excess glandular tissue. Glandular tissue is surgically excised.
Removing loose, excess skin. Lax or saggy skin is removed.
Tightening the remaining skin. The remaining skin is re-draped over the modified tissues for a smoother and tighter appearance.
Modifying the nipples and areolas. Overly large areolas can be resized and the nipples are relocated to a more natural-looking position on the chest.
Recovering from Surgery
Most men are able to return to their normal activities one to two weeks after surgery. Ultimately this depends on the patient's personal healing progress and the extent of surgery.
Male Breast Reduction Scarring
Understandably, many men are concerned about the possibility of scarring from male breast reduction surgery. Dr. Krau is very conscientious when making the surgical incisions and places them carefully to minimize the possibility of scarring. The location and extent of the incisions depend on several factors. Usually, the incisions are placed where the most glandular breast tissue and/or excess skin are located. An incision may also be created if the areola needs to be reduced or if the nipple needs to be repositioned. With proper care, scarring fades over time until it is virtually invisible.
To learn more about male breast reduction surgery or gynecomastia, schedule a personal consultation with Dr. Krau. Please call (305) 861-6881 or email his Miami office today.