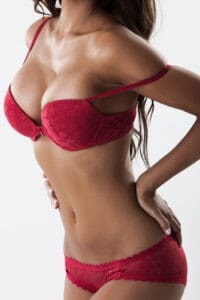 No one can completely stop the natural aging process. Eventually, factors including hereditary traits and the effect of gravity will take a toll on your body overall and on your breasts in particular. However, there are certain steps you can take — and certain habits you should avoid — to postpone visible signs of aging from developing, especially throughout your breast area. Here, Dr. Ary Krau shares tips to help keep your breasts young.
Avoid Yo-Yo Dieting. Extreme fluctuations in weight can cause the skin — including breast skin — to lose its elastic quality, so it can no longer "bounce back" to a smaller shape and size once you lose a substantial amount of weight. Try to maintain a healthy weight by eating well-balanced, nutritious meals and getting regular exercise.
Don't Smoke. We all know that smoking is bad for our health. But you may not realize how bad it is for your outward appearance as well. Smoking impedes proper blood circulation and robs your blood of life-giving oxygen. It also damages collagen and elastin, two proteins that are essential for healthy, elastic skin. All these negative effects of smoking can lead to the development of wrinkles, sagging skin and hard, dull-looking skin — throughout your face, décolletage and breasts.
Do Eat Nutritious Foods. Eating the wrong foods, such as excessive amounts of sugar, can wreak havoc on your skin, including your breast skin, making it look dull and dry. However, eating nutritious foods can have a beneficial effect on your appearance. For instance, eating foods high in antioxidants will help combat free radicals that damage skin cells and encourage cellular repair, both of which will help keep your breast skin looking healthy and youthful.
Don't Go Out in the Sun Without Proper Protection. The skin on your neck and décolletage is thin and sensitive. Also, your chest area gets a lot of sun exposure when you are wearing bathing suits or low-cut blouses and dresses. Sun exposure without proper protection (i.e., clothes or broad-spectrum sunscreen with a high SPF) can cause dark spots (hyperpigmentation) to appear on your décolletage and cleavage wrinkles to develop. To keep your breasts looking young, don't skimp on the sunscreen, and apply it liberally to your décolletage when you know you will be out in the sun.
Do Stay Active. Staying active will help keep you fit on the inside and looking great on the outside as you age. This includes cardiovascular exercise as well as strength training. Enhancing the muscles in your chest can provide a subtle lift throughout the breast area. Also, building muscle throughout your back, chest, arms and core will help you maintain good posture — which makes you look slimmer and your breasts look perkier. What woman doesn't want that?
Need Help Making Your Breasts Look More Youthful?
If you are already noticing visible signs of aging throughout your breast area, reach out to Dr. Ary for help. He offers breast lift, breast reduction and breast enhancement surgery that can help you achieve youthful-looking breasts.
To schedule a consultation with plastic surgeon Dr. Krau to learn more about breast surgery, please contact his office by calling (305) 861-6881.