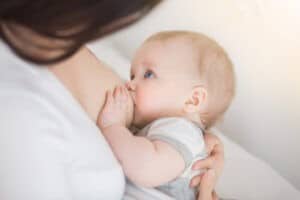 Mothers give so much of themselves to their children, starting with their bodies during pregnancy and breastfeeding. Many women are unhappy with the appearance of their breasts and nipples when they discontinue nursing and lose the baby weight. After breastfeeding, breast tissue tends to sag and lose upper volume, and the nipples may point downward and appear more elongated or elliptical. Duration of breastfeeding, age, and weight fluctuations can all cause the breasts and nipples to lose their youthful look and feel. Dr. Ary Krau can address these breast changes with breast surgery at his Bay Harbor Islands office.
When Should You Have Breast Surgery After Breastfeeding?
Women interested in breast surgery after breastfeeding must be done lactating. After weaning, the breasts may take three to six months to settle into their natural state but may take longer for some women. The breast glands slowly decrease in size when lactation ends, and it takes time for the dense breast tissue to soften. It's best to wait until these changes are complete to achieve more predictable results with breast lift, breast augmentation, or breast reduction.
Future pregnancies may alter your breast surgery results, and it is recommended that women wait until they're finished having children.
What Type of Breast Surgery Is Best After Breastfeeding?
Breast augmentation and breast lift are the most popular choices among mothers. Tissue deflation and breast ptosis (drooping) are common after pregnancy and nursing. Breast implants with breast augmentation can restore that lost volume, and breast lift elevates and tightens the breasts and corrects nipple size and position.
Breast augmentation has many options, including saline or silicone breast implants in various sizes, shapes, and textures. Dr. Krau will discuss your implant options and recommend a surgical approach to reach your desired results.
Breast lift is often a good choice for women with moderate to severe breast ptosis and may be combined with breast augmentation. Excess skin tissue is removed during breast lift surgery, and the nipples and tissues are repositioned higher on the chest wall for a perky, youthful contour.
Fat grafting breast augmentation is another option for women who want a mild size increase that restores lost volume. Fat grafting can also be combined with breast lift. The process harvests unwanted fat from a stubborn area such as the abdomen, purifies the fat, and injects the fat cells into the upper portion of the breast for natural breast enhancement without implants.
Breast reduction is another procedure for postpartum women. The breasts often swell one or more cup sizes during pregnancy and breastfeeding and may not decrease after weaning. Breast reduction surgery removes the excess breast tissue for a breast size that is more proportionate with the body shape.
Learn More About Breast Surgery After Breastfeeding
Breastfeeding is a rewarding experience for many women and is celebrated during National Breastfeeding Month in August. If you're interested in breast surgery after breastfeeding, contact our board-certified plastic surgeon in Bay Harbor Islands, Florida. Schedule a consultation with Dr. Krau by calling (305) 861-6881.