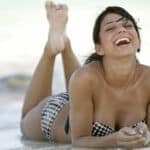 Breast augmentation continues to be the most popular cosmetic surgery procedure performed in the United States. Last year, more than 286,000 women had implants placed. The reasons are as different as the women themselves; however, Dr. Ary Krau has identified commonalities among his Miami breast augmentation patients. Here are six of the top reasons why women pursue breast augmentation.
1. To Enhance a Naturally Flat Chest
Many breast augmentation candidates cite a desire for breasts that are proportionate to their body. They want bigger breasts to balance out the rest of a curvaceous figure, or to complement a thin, fit physique. Perhaps they have trouble buying tops and dresses off the rack, and filling out bathing suits comfortably. They might feel like they attract negative attention (or no attention at all!) because of non-existent breasts.
2. To Fix Asymmetry
Another group of breast augmentation candidates dislike the asymmetry between their breasts. One breast might be an A-cup and the other a C-cup. This makes finding well-fitting bras a virtual nightmare. It can also affect self-confidence.
3. As Part of a Mommy Makeover
Some women lose a significant amount of breast volume after pregnancy and nursing (especially nursing multiple children). These mothers usually describe their breasts as shapeless or "deflated." If the breasts are noticeably smaller with a significant degree of sagging, the placement of implants can be combined with breast lift. (Mommy makeover typically includes abdominal contouring and body sculpting procedures in addition to breast surgery.)
4. To Restore Breast Volume after Massive Weight Loss
Women may lose breast volume and normal shape after massive weight loss. Rapid, substantial weight loss can affect how round and perky the breasts look. Post-weight loss, the breasts can appear flat or elongated.
5. For a More Satisfying Love Life
Breasts are an inherent part of female sexuality, and some women with small breasts have difficult feeing sexy. Larger, fuller breasts give them the confidence they need with a romantic partner. A special study by the American Society of Plastic Surgeons found that most women reported increased feelings of sexual satisfaction and sexual arousal after breast augmentation surgery.
6. For Reconstructive Purposes
Implants are a common reconstructive method after breast cancer. Also, certain women sustain trauma or have a genetic deformity that inhibits natural breast growth. Implants are used to restore normal breast appearance.
What Are Your Reasons?
Having plastic surgery is an extremely personal decision. Dr. Krau would like to speak with you in more detail about the reasons you are pursuing breast augmentation (or another procedure of choice). To schedule a one-on-one consultation with him at our Miami plastic surgery practice, please call (305) 861-6881 today.