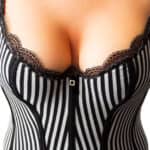 Attention, ladies! Dr. Ary Krau has exciting news to share with you.
Breast augmentation is still the most popular plastic surgery procedure in the country, according to recent statistics. However, many women are embracing a different kind of aesthetic. Instead of having large, round breast implants placed, they are opting for natural, modest breast enhancement that looks proportional and pretty.
Simply put, when it comes to breast size, the days of "Bigger Is Better" are over.
In order to meet the new aesthetic ideal, Dr. Krau has a creative solution. Here, he sheds light on the unique way to give his Miami breast augmentation patients full, natural-looking breasts and soft, deep cleavage.
Part One: Silicone Implants
The first step of the procedure is the placement of implants. Together, you and Dr. Krau will select a pair of modestly sized silicone breast implants. Though Dr. Krau offers both saline and silicone implants, the majority of his patients prefer silicone implants.
Thanks to the nature of the filling, silicone implants resemble the feel of natural breast tissue. And, they are less likely to ripple in the implant pocket. Also, they may last longer than saline counterparts.
Part Two: Autologous Fat Transfer
Now, here comes the not-so-traditional twist. Dr. Krau will take excess fat from another area of your body (e.g., your abdomen or thighs), purify it and then inject it into your breasts to cushion the implants and soften your cleavage. The fat is ideal for covering implants, so the results look subtle and natural. Eventually, the fat will develop its own blood supply to survive in the transplanted area. Since it's your own fat, there is very little chance of an adverse reaction.
There are many advantages to the fat transfer techniques. One of the most noteworthy is the fact that the donor area (abdomen or thighs) will look slimmer, and the grafted area (your breasts) will look bigger! Most of Dr. Krau's breast augmentation patients have unwanted fat in another area of the body, so fat transfer is ideal.
Take the First Step toward Sexier Breasts
To learn more about breast augmentation with autologous fat grafting, please schedule a consultation with Dr. Krau. Contact his office by calling (305) 861-6881 today.