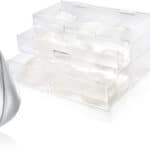 Modern breast implant technology has afforded you many choices in filling, size and shape. While this is clearly a benefit, the choices may seem overwhelming at first. If you are planning breast augmentation surgery, you and Dr. Ary Krau will collaborate to choose the implants that suit your unique needs and provide the aesthetic outcome you desire.
Here, Dr. Krau talks about how the two of you will select your breast implant size.
First Things First …
When you're describing your ideal breast implant size to Dr. Krau, forget about using cup size. Implant sizes are measured by the amount of fluid or gel in the implant. Implants range in volume from 125 cubic centimeters (cc's) to 600 or 700 cc's. Generally, most patients opt for implants in the 300 to 400 cc range.
Some of Dr. Krau's patients request "C" or "D-cup" breast implants, but those aren't helpful descriptors, because bra cup sizes vary wildly between brands. Instead, you could say that you would like your augmented breasts to look more proportional to your body, or you could describe your desired shape (e.g., round or teardrop). Alternatively, you could say that you want to achieve breast symmetry.
Use Our Mentor Sizer Kit
Dr. Krau offers an implant sizer kit to help you visualize what your breast augmentation results will look like. With the kit, you can "try on" up to 18 different sizers (offering volumes ranging from 150cc to 775cc) and compare the results of each. Previewing the results will help you make your decision more confidently. Most breast augmentation surgeons also agree that trying on sizers reduces the chance that patients will want their implant size changed in the future.
Ask a Friend to Come with You
You don't have to decide alone! Ask a close friend, sister or even your significant other to join you as you try on implant sizers. While the decision is ultimately up to you, it may help to have the opinion of someone that knows you well and can be candid.
Other Considerations
Are you a runner or an athlete? If so, you want to be careful to pick implants that won't interfere with your athletic endeavors.
What is your personality type? Think about the breast size that you would be comfortable with. If you don't like attention, you may not want to choose breast implants that are out of proportion with the rest of your body.
What do you normally wear? Bring a few shirts or bikini tops in styles you usually wear, so you can try the implants on with them.
Think long-term. Breast implants are designed to be long-lasting devices; they do not need to be replaced unless there is a (rare) complication, or you want to change your breast size. Imagine yourself five, seven or 10 years down the road and consider whether you will be happy with the implants you've selected.
Contact Dr. Krau
If you have questions about picking breast implant size, please contact Dr. Krau's office today. Call (305) 861-6881 to schedule an appointment with him or to speak with one of our knowledgeable staff members.