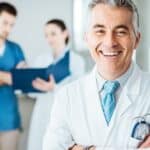 The majority of patients don't know the differences between a doctor that calls himself a "plastic surgeon" and a doctor that calls himself a "cosmetic surgeon." However, the distinction is very important, and you should understand the differences between the two if you are looking for a doctor to perform your elective surgery.
In this post, board-certified plastic surgeon Ary Krau breaks down the distinctions between plastic surgeons and cosmetic surgeons to help you understand your options.
Background and Training
Although plastic surgeons and cosmetic surgeons offer many or most of the same procedures, their qualifications to perform these surgeries are usually quite different.
After graduating from medical school, plastic surgeons complete a plastic surgery residency program, which lasts five to six years or more. This program involves at least three years of general surgical training and two to three years of training in plastic surgery. Some plastic surgeons go on to complete additional fellowship programs in the area of their choice (e.g., breast, facial or hand surgery), training in esteemed hospitals or under the guidance of renowned plastic surgeons in private practice.
After graduating from medical school, a cosmetic surgeon does not have a singularly defined path. They may complete a residency training program focused on general surgery, gynecology, dermatology, or another area of medicine. Their plastic surgery training may only be limited to a year-long fellowship program or a few weekend courses.
Board Certification
To be considered a board-certified plastic surgeon, doctors must meet many high standards set forth by the American Board of Plastic Surgery (the only board acknowledged by the American Board of Medical Specialties for plastic surgery). ABPS requires doctors to have a medical degree and formal plastic surgery training from an accredited program. They must also pass difficult exams testing their knowledge of the specialty. Once in practice, board-certified plastic surgeons must adhere to strict standards of conduct, judgment, ethics and safety.
If you meet a doctor that calls themselves a board-certified cosmetic surgeon, do not assume they belong to the ABPS. Cosmetic surgeons may be board-certified by the American Board of Cosmetic Surgery (not recognized by the American Board of Medical Specialties for plastic surgery) or another specialty board, like the American Board of Obstetrics and Gynecology. Or, they may not be certified by any medical board.
The Bottom Line
There are many cosmetic surgeons that are, in fact, well-trained and upfront about their credentials. The problem is dishonest cosmetic surgeons that mislead patients into thinking they are actually plastic surgeons, but in reality, lack the training and knowledge needed to perform complex aesthetic and reconstructive procedures.
As a patient, you have the right to inquire about your doctor's educational background, training and credentials. It's perfectly acceptable to confirm your plastic surgeon is certified by the ABPS and to ask questions to clarify something that sounds confusing. The best surgeons will be completely candid and transparent with you to earn your trust.
To consult with board-certified plastic surgeon Ary Krau, please call or email our office today.