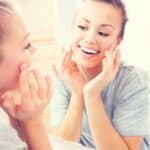 As mentioned in his last blog post, Dr. Ary Krau is a talented and passionate rhinoplasty surgeon. Whereas other plastic surgeons may avoid performing rhinoplasty because it is one of the most complex procedures, Dr. Krau enjoys those very complexities. He has developed a first-class reputation in South Florida for satisfying the diverse needs of his rhinoplasty patients.
See why Dr. Ary Krau is considered by many to be the best rhinoplasty surgeon in Miami.
Dr. Krau thought it might be interesting to prospective rhinoplasty patients to learn more about his approach. Here, the doctor shares his core principles for meeting — and exceeding — the expectations of his rhinoplasty patients.
Avoiding a "One-Size-Fits-All" Solution
Dr. Krau avoids using a cookie-cutter, "one-size-fits-all" approach because every rhinoplasty patient's face is unique. He prefers to tailor treatment to the specific needs of the patient and develop a solution that is perfectly suited to their aesthetic needs.
"Every nose I do is uniquely created for each face," Dr. Krau says.
Doctor-Patient Collaboration Is Key
Dr. Krau believes that close collaboration between doctor and patient prior to the surgery is critical. During the consultative phase, he works closely with each patient to identify the specific areas of concern and determine the ideal outcome.
"I like to design a nose that both the patient and I are striving for," he says.
This collaborative phase usually includes computer imaging, which uses images of the patient's nose and digitally manipulates them to preview the results of rhinoplasty surgery. This is an excellent opportunity to make sure that both Dr. Krau and the patient are on the same page, and for the patient to provide feedback before the surgery.
Ethnic Differences Must Be Considered
South Florida is a vibrant community full of people of all ethnicities. Dr. Krau is very careful to understand and honor the ethnic background of each patient as he plans surgery. Keep in mind that a patient of Asian descent typically has different aesthetic and anatomical needs than a patient of Middle Eastern descent. All of these factors are carefully considered during the consultative process. Dr. Krau strives to address his patients' specific goals and concerns while preserving their unique "look" as best possible.
Contact Our Miami Rhinoplasty Surgeon
If you are interested in improving the shape, size or appearance of your nose with a renowned rhinoplasty surgeon, schedule an informational consultation with Dr. Krau. Call (305) 861-6881 or email our practice today to make your appointment.