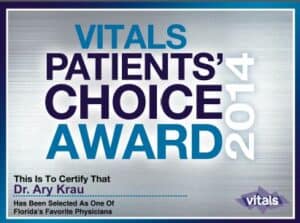 Congratulations!
Dr. Ary Krau has been selected as one of South Florida's Favorite Plastic Surgeons.
South Florida patients have spoken. Vitals, a leader in providing online transparency tools and data that help consumers find top plastic surgeons and make informed decisions about their cosmetic procedures announced its 8th annual Vitals Patients' Choice award winners. Dr Krau was one of the winners!
Vitals Patients' Choice Award recognizes top-performing plastic surgeons based on the reviews and ratings collected during the calendar year. Surgeons need an average rating of 4.5 or higher out of its 5-star rating system, to have received at least four reviews in a calendar year and have a medical license in good standing with no sanctions.
Compared to previous years, the 2015 award winners received more ratings and reviews than past winners. In fact, more than 2 million reviews were collected among the recipients this year, with a median number of 8 ratings left per physician.
The increase in physician feedback coincides with recent survey findings that the use of doctor rating sites is increasing among consumers. In 2013, only 25 percent of U.S. adults consulted online physician-rating sites. Yet in 2014, that number jumped to 42 percent, according to an annual poll by Software Advice.

"Reviews are considered an important quality indicator for nearly every major consumer decision online –