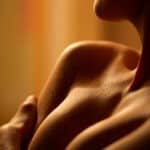 Hollywood starlets may have more money, fame and power than the average woman — but many of them still feel self-conscious about their bodies. In an environment that puts a lot of emphasis on having the perfect body, full and sexy breasts are important. Some celebrities are not shy about the fact that breast surgery has helped them attain their ideal breast appearance. In this blog post, board certified Miami plastic surgeon Dr. Ary Krau discusses celebrities that have had breast surgery for fuller, perkier and more beautiful breasts.
Kaley Cuoco
Kaley Cuoco, who stars on the hit show "The Big Bang Theory," is not shy about her decision to have her breasts augmented when she was 18 years old. She called her surgery "the best thing ever" in an interview last year with Redbook. "My implants made me feel more confident in my body. It wasn't about trying to be a porn star or wanting to look hot and sexy."
Nicole Richie
Though she has not personally confirmed it, Nicole Richie is rumored to have undergone breast augmentation after nursing two children diminished the shape and size of her breasts. US Weekly speculated that the now-34-year-old television star and designer had breast implants placed in 2011. A source told the magazine, "[Nicole's} pregnancies took a toll. She said breastfeeding killed what boobs she did have!"
Ariel Winter
Not every starlet wants to go bigger. Ariel Winter, the 17-year-old star of ABC's "Modern Family" made headlines this summer when she confessed to having breast reduction surgery. The 5' 1" actress went from a size 32F cup to a 34D to address physical and emotional pain from her oversized breasts.
She told Glamour, "It's something that I did to better my life and better my health, and I think that can benefit a lot of young girls. I have felt happier with myself than I ever have."
Patricia Heaton
The 57-year-old leading lady on "The Middle" (previously of "Everybody Loves Raymond") admitted to People that she had breast lift and a tummy tuck after giving birth to her children. "I had four C-sections and my stomach looked like the map of the world. My breasts were hanging down to here from breastfeeding those babies, and my nipples were like platters. I wanted to fit into the gowns that I finally got to wear," Heaton confessed.
Enjoy a Better Breast Appearance and More Confidence
Are you tired of feeling insecure about your breast appearance? Do these stories inspire you to explore your surgical treatment options? If so, Dr. Krau invites you to schedule an informational consultation at his practice. Call (305) 861-6881 today to make an appointment with the doctor.