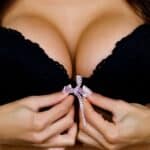 When it comes to breast augmentation, a patient has many options that relate to their personal aesthetic objectives. The options for method of enhancement are typically implants and natural breast augmentation, also known as autologous fat transfer. With years of experience performing both procedures, Dr. Ary Krau can take you through the basics of each, along with reviewing the pros and cons.
Implants
There are three types of implants: traditional silicone gel, saline and the newly approved "gummy bear" silicone. Saline implants are not pre-filled by the manufacturer and can be placed through a slightly smaller incision. The saline solution filling is readily absorbed into the body in the unlikely event of a leak. Silicone implants come pre-filled and require a slightly larger incision. Although Dr. Krau believes that silicone implants are extremely safe, in the unlikely event of a rupture, it is harder to detect a problem because the material is quite cohesive.
Silicone implants come in round and teardrop shapes. Round implants are equally full on the top and bottom, and teardrop implants have a natural sloping shape.
Autologous Fat Transfer
Natural breast augmentation uses unwanted fat taken from a patient's own donor site — like the hips, thighs or abdominal region — and injects it into the breasts to add subtle volume and fullness. Patients who have sufficient fat in another region of their body to contribute to the breasts are likely to be good candidates for natural breast augmentation.
Pros and Cons of Each Alternative
Implant Pros:
Variety of implant types to suit patient preferences: silicone gel, saline, and "gummy bear" silicone
Different shapes: teardrop (natural) or round
Can accommodate the patient's desire for any breast size and/or shape
Long-lasting
Implant Cons:
Incision is required
Patient and doctor need to collaborate on a variety of decisions
Most women replace implants every 10 to 15 years
Natural Breast Augmentation Pros:
Uses fat cells harvested from patient's own body
The "donor" area can be contoured at the same time the breasts are augmented
No large scars
Natural Breast Augmentation Cons:
Maximum increase of one cup size
Not all fat survives, so results are unpredictable
Dr. Ary Krau has many years of experience restoring patients' breasts to their former youthful appearance. He looks forward to discussing your goals and questions relating to breast augmentation. Please call the office for an appointment at (305) 861-6881.