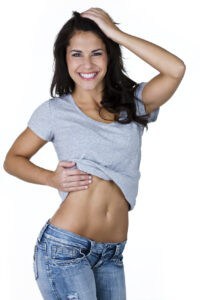 Do you follow a healthy diet and perform both aerobic and strength-training exercises regularly, but still suffer from the unsightly look of a "muffin top"? If so, Dr. Ary Krau would like to remind you that it might not be your fault. Sometimes, due to genetic traits, major rapid weight loss or simply the natural aging process, certain individuals are stuck with bothersome problem areas that don't respond to healthy lifestyle efforts. Thankfully, Dr. Krau offers multiple body contouring treatment options that can help improve the look of the dreaded muffin top.
Liposuction
If you have good skin elasticity and are at or just slightly above your ideal body weight, but are bothered by excess fat around your waist that hangs over the top of your pants, you might be an appropriate candidate for liposuction. With liposuction, Dr. Krau can remove stubborn fat that is resistant to diet and exercise from around your waist (or nearly any area of the body). The result is a sleeker waistline and no more muffin top.
Tummy Tuck Surgery
If you suffer from muffin top, and your skin has lost its elasticity and is no longer able to shrink down to a smaller size and shape — perhaps due to pregnancy, massive weight loss or the aging process — tummy tuck surgery might be a more appropriate treatment option for you. With tummy tuck surgery, Dr. Krau removes loose excess abdominal skin and tightens the underlying musculature, for a fitter, firmer abdominal contour.
The Perfect Combo- Tummy Tuck with Liposuction
If liposuction is properly incorporated into the tummy tuck procedure, the skin flap can be pulled down and redraped without sacrificing the major blood supply originating through the abdominal musculature.  This not only made the procedure much safer, but the results are superior as it allows for better contouring and shaping of the abdomen.  Therefore, liposuction in combination with tummy tuck is not only desirable, but mandatory. See results
About Body Contouring Procedures
With either procedure, it is important that patients are at a body weight that they feel they can maintain after surgery, in order to preserve the aesthetic effects of the body sculpting procedure.
With liposuction, the fat cells that are removed will not grow back, but gaining a significant amount of weight can cause the remaining ones to grow larger or new ones to develop.
Likewise, gaining a substantial amount of weight following tummy tuck surgery can counteract the slimming results of the procedure. For this reason, women who plan to get pregnant in the future are advised to wait until they are finished having children to undergo tummy tuck surgery.
Say Goodbye to Muffin Top
If you are ready to say goodbye to your unsightly muffin top, Dr. Krau invites you to learn more about your body contouring treatment options.
To schedule a consultation with Dr. Ary Krau to learn more about liposuction, tummy tuck surgery or the perfect combo, please contact his office by calling (305) 861-6881.