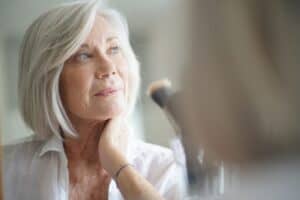 The appearance of your eyes plays a big role in how others perceive you. Unfortunately, effects of aging and gravity around your eyes may make you appear sad or fatigued — even if you are full of energy and vigor.
This realization is why countless Miami patients visit Dr. Ary Krau to inquire about eyelid surgery and what it can accomplish. When eyelid surgery is performed by a surgeon as skilled as Dr. Krau, it can have a dramatic improvement on a patient's expression.
Read on to learn more about the benefits of eyelid surgery.
Fewer Fine Lines
With age, the thin skin on and around the eyelids can develop wrinkles, creases and fine lines. Upper and lower eyelid surgeries reduce the number of fine lines around the outer corners of the eyes. With smoother, softer-looking skin, your eyes will look younger and more alert.
No More Bags Under the Eyes
Bags or puffiness can form under your eyes due to the stretching of the skin and tissues below the eye and the prolapse of fat in the lower eyelid. The bags may make you look perpetually tired, stressed or sad. Lower eyelid surgery removes, repositions and sculpts the fat contributing to bags, restoring a rejuvenated appearance to the eye area. Sometimes this can be accomplished through an incision on the inside of the lower eyelid, so there is no visible scarring after surgery.
Clearer Visual Field
If you have very heavy or saggy upper eyelids, the skin and tissue may droop over your upper lash line and obstruct your line of sight. You may find yourself instinctually tilting your head back or even raising your eyebrows to help you see more clearly. By removing redundant skin and tightening the muscle, skin and tissue, eyelid surgery can expand your visual field and give your muscles a rest from constantly lifting your eyebrows.
Easier Eye Makeup Application
If you enjoy wearing makeup but have excess skin in your upper eyelids, it is probably difficult to properly apply your favorite cosmetics. When the eyelid skin is not taut or smooth, makeup can easily smear or apply unevenly. Surgically smoothing, lifting and reshaping the eyelids makes it easier to apply makeup and less likely that the makeup will smear.
Request an Eyelid Surgery Consultation
If you are interested in recapturing a youthful eye appearance and improved vision, eyelid surgery may be right for you. When deciding whether to have eyelid surgery, it is imperative to choose an experienced surgeon to work with. Dr. Krau is one of Miami's most experienced eyelid surgeons and would be happy to evaluate your case. To request a consultation with Dr. Krau, please contact us today.